Harriet Nuttall is the new British Showjumping National Champion
Sunday 11 August 2019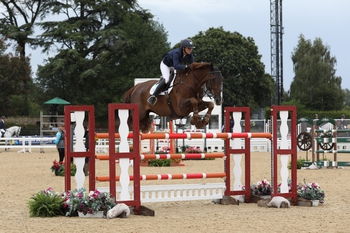 After an incredible array of talent over the six days of the British Showjumping National Championships, it came down to the nail-biting final leg of the HOYS International Wild Card Series which incorporated the British Showjumping Business Partnership International Stairway Final. With four Horse of the Year Show Wild Cards on offer, including the 2019 British Showjumping National Champion title, there was all to play for.
There were fourteen riders through to the jump off in the up to height course, which proved challenging for each combination causing multiple contenders to pick up faults chasing the clock. The eventual winner of the class and taking the highly coveted 2019 British Showjumping National Champion title was Harriet Nuttall and A Touch Imperious.
Harriet was completely overwhelmed by her win here today and commented: "It feels fantastic to be crowned the British Showjumping National Champion; it's even more special to be taking the title on A Touch Imperious. He deserves every title he gets."
The combination finished with a quick time of 46.24 seconds: "It was a quick jump off, and I didn't think I could beat Mark Edwards. I made up the time by going eight strides down to the last upright, as opposed to going the nine strides like Mark did. This is also the first time we have been the National Champion and Henry otherwise known as A Touch Imperious really does deserve it."
The winner of the National Championship Show League, which has run across the show from Friday to Sunday was the National 1.40m Champion Mark Edwards. The International Stairway League winner for the third year running was Helen Tredwell who was riding Larksong. The winner of the Under 25 HOYS Wild Card was Georgia Tame. All four recipients of the HOYS Wild Cards have now secured their place in the International competitions at Horse of the Year Show, 2nd – 6 October 2019.
Image credit - 1st Class Images