Tuesday, April 24, 2018
Gloucestershire's Elizabeth Hammond Wins the March NAF Shining Star Award
Monday 23 April 2012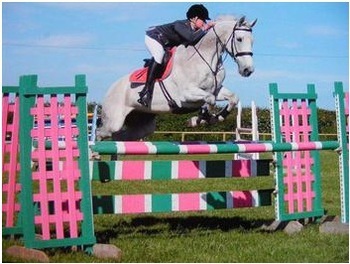 Young showjumper, 16-year-old Elizabeth (Lizzie) Hammond from Berkeley, Gloucestershire, has been awarded the NAF Shining Star Award for March for her commitment and advances in British Showjumping.
Lizzie was nominated for the NAF Shining Star Award by lead coach for the Gloucestershire Junior Academy, Nicky Florence, who said: "Over the last few years, Lizzie has made huge steps in her showjumping through guts and hard work and Lizzie puts her success down to having great ponies, support from her family and being able to attend regular Junior Acadamy training sessions".
Up until October 2010, Lizzie had ridden a great pony called Duke, who though he was not easy to ride due to his excessive enthusiasm, Lizzie rode him from 0.90m through to 1.20m and this was down to her hard work and perseverance. Duke gave Lizzie the confidence and desire to jump bigger tracks, so when she inherited the ride on another pony called Magners, Lizzie's goal was to step up and jump the bigger classes at the Pony Premier Shows. Lizzie has now been riding Magners for just over a year and she reached her goal during earlier this winter.
Tracey Lloyd, Marketing Manager for NAF commented: "It is wonderful to see Lizzie clearly achieving her goals through regular Junior Academy training sessions, dedication and hard work. It's also great to see that the programme is working well and rewarding such a committed rider. Well done Lizzie- keep up the good work!".
The NAF Shining Star Award was introduced when NAF became a British Showjumping Business Partner. The award is for members of a Junior Academy who have shown a great deal of commitment, progression and outstanding behaviour along with their riding ability and much more. Riders are nominated by their lead coach, and then judged and awarded by NAF to one person each month.