Sunday, May 20, 2018
Dorset Rider Gains NAF 5 Star Performance Award.
Monday 16 January 2012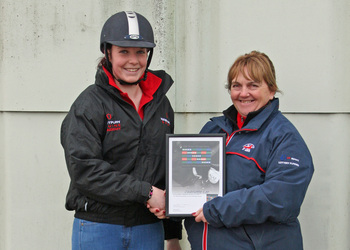 Charlotte Lee from Stoborough in Wareham, Dorset, is a University student aged 20 in her final year of a 3 year Equine Science degree course at Hartpury in Gloucester.
She has the added bonus of being able to keep her current horse Zarina a 7yr old KWPN at Hartpury with her and although she has only competed her for 5 months has already achieved her 4 double clears at Discovery and Newcomers and is now jumping at 1.20.
She was selected and has been a member of the Hartbury Equine Academy for the last 2 yrs being trained by Nick Burton and Corrine Bracken, and it is with the help and guidance she has received from Corrine that she has been able to achieve her British Showjumping NAF
5 star Performance Award of which she is justly proud.
Charlotte says she would encourage any rider regardless of their ability to participate in this scheme as its structured approach is a terrific way to improve your knowledge and performance of both yourself and your horse.