Amber Owen takes the win in the Nupafeed Supplements Senior Discovery Second Round at Ponderosa Equestrian Centre
Tuesday 09 July 2019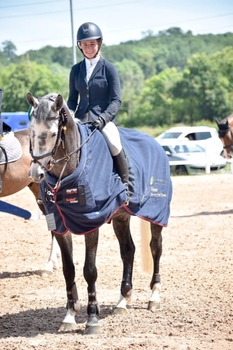 Amber Owen from Chippenham, Wiltshire claimed her second Nupafeed Supplements Senior Discovery Second Round win this season, this time at Ponderosa Equestrian Centre in Newport, Gwent with Alison Davies' Could Be Gold.
Thirty-two combinations arrived at the Welsh show centre ready to take on course designer Richard Davies' twelve fence track with the hopes of gaining a treble clear to snatch their qualifying ticket into the Nupafeed Supplements Senior Discovery Championship Final, held during the British Showjumping National Championships in August.
Amber and the 7 year-old Irish mare, Could Be Gold, who won the Discovery Second Round at Parwood Equestrian Centre back in May, cruised to victory with 6.36 seconds in hand, crossing the finish line in 37.87 seconds and in doing so were the only combination to break the 40 second marker. Amy Thomson and her own Quattro 1, a 6 year-old British bred gelding were Amber's closest opponents posting a time of 44.23 seconds.
Ryan Becker took third place with his own Homein, they produced a time of 47.51 seconds. The fourth and final treble clear came from Milly Cornock on Paul Cornock's Just Do It I, they crossed the line in 49.58 seconds.
Ponderosa Equestrian Centre – Sunday 7th July 2019
Nupafeed Supplements Senior Discovery Second Round
1st Amber Owen & Could Be Gold – 0/0/0 –37.87 seconds
2nd Amy Thomson & Quattro 1 – 0/0/0 – 44.23 seconds
3rd Ryan Becker & Homein – 0/0/0 – 47.51 seconds
4th Millicent Cornock & Just Do It I – 0/0/0 – 49.58 seconds
NB: Qualifications will be updated pending official grading of results.
Image: Amber Owen in action with Could Be Gold at Ponderosa Equestrian Centre on Sunday in the Nupafeed Senior Discovery Second Round
The British Showjumping National Championships 2019 will take place during the 6th – 11th August at the National Agricultural and Exhibition Centre (NAEC), Stoneleigh Park, Warwickshire.