Will Whitaker Accumulates a Solid Win whilst Robert Whitaker Produces a Christmas Cracker
Friday 21 December 2018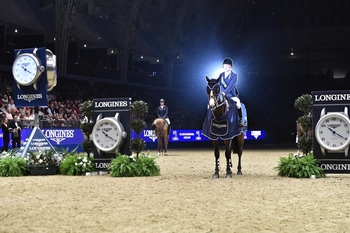 British riders dominated The Keith Prowse Father Christmas Stakes, with Will Whitaker, William Funnell, Ben Maher and Guy Williams taking the top four places respectively.
Riding Lammy Beach, a 10 year-oldl gelding owned by Catherine and Merna Merrett, Will posted the fastest round on the maximum 65 points accrued stopping the clock at 46.81 seconds to take the win. Hot on their heels were Will Funnell with the homebred Billy Angelo who had to satisfy themselves with 2nd place as a results of just 2/100th of a second difference on the clock. With the top four places all flying the flag for Great Britain it was a great class for the capacity crowd who raised the roof in appreciation for them.
The evening drew to a close with The Longines Christmas Cracker. Out of a field of 28 competitors, 13 jumped a clear first round and progressed to the jump-off, which then saw a further six pairs jump double clear. While Holly Smith (Claddagh Iroko) and Laura Kraut (Confu) put themselves firmly in contention, it was Robert Whitaker and his nine-year-old bay mare, El Wee Widge who rose to the occasion, crossing the finish line in an unbeatable time of 34.51 seconds.
An Olympia victory was just what the doctor ordered when, two weeks after having his appendix removed, Robert Whitaker produced a masterful performance in a 13-horse jump-off for Friday's main class, The Longines Christmas Cracker.
His winning mount was the relatively inexperienced nine-year-old El Wee Widge, owned by his uncle, Michael Whitaker.
"I just said to Michael: 'I'm going to have a bit of a go' as the horse likes to go forward," said Robert, who took over the ride when his uncle was injured, finishing second in a major class at Oslo Show. "I went to Michael and said that I was really short of horses and he kindly let me have El Wee Widge."
Laura Kraut, a world team gold medallist this year, came closest to catching Robert – she was just 0.4 seconds slower on the grey Confu, beating young British rider Holly Smith on Claddagh Iroko by a mere 10th of a second.
Keeping it in the family, Robert's father John had the crowd roaring in excitement but he lost time trying to keep the mare Leen O.L. on her line and had to settle for fourth place.
Earlier, to the delight of the packed home crowd, Robert's cousin, William Whitaker, riding Lammy Beach, topped a British one-two-three-four in the Keith Prowse Father Christmas Stakes, an accumulator class against the clock. A final tricky joker fence gives double points if jumped cleanly, but is double the penalty if knocked down.
"It's like you're riding in a speed class, but then have that big last fence to think about," explained William, who represented Britain at the FEI World Equestrian Games™ this year. "I had a lot of quick ones to come after me so I had to take a few risks and got away with it. I wanted one stride less to one fence, and I didn't get it, so I knew I had left some room for others to catch me."
The buzzing atmosphere suited the 10-year-old Irish-bred gelding. "The closeness of the crowd doesn't suit some horses, but it really makes him light up," said William. "I am really happy with this horse and it is a real privilege to ride here."
With two more days to go, Norway's Geir Gulliksen is currently Leading Rider of the Show with five placings, pushing Darragh Kenny from Ireland into second. William Funnell, who has been runner-up three times, is third.
WHAT TO LOOK FORWARD TO TOMORROW
The Longines FEI Jumping World Cup™
The FEI Driving World Cup™ presented by Dodson & Horrell
The Martin Collins Enterprises Christmas Tree Stakes
The Kennel Club Large Senior Dog Agility Finals
Tickets for Olympia, The London International Horse Show, are still available for some performances. To book go to www.olympiahorseshow.com