Saturday, April 21, 2018
Well Done to Sussex Riders at Weston Lawns!
Tuesday 23 August 2011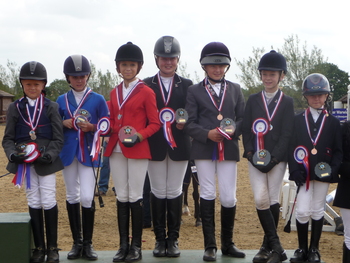 A note from Judi -

I am very proud of our teams...team silver and bronze in the mini teams (photo attached shows (l to r) Scott Dollemore(in both teams) , Amy Grant, Lily Dugard, Francesca Oliver, Holly Shiret, Hannah Ede, Megan Maguire. Hannah Ede also took the Minis Individual Silver!


Our Maxi team took Team Gold Iona McCaul (also individual Silver) Megan Maguire, Harriet Barsham Hannah Ede


Our Mature Maxi Team took Team Bronze (Harriet, also 4th individual and Holly Barsham, George Sturgis, Poppy Ramey)


In the Horse class Jazz Shiret took Individual Gold.