Sunday, May 20, 2018
SPOTLIGHT ON........
Thursday 16 February 2012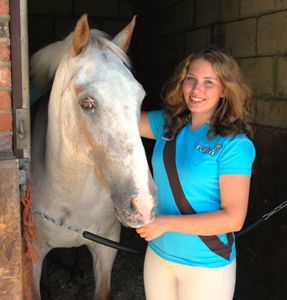 Name: Chantal de Gaston-Cooper

Profession: Student

Apart from horses, what other hobbies do you have?
Running the British Showjumping Surrey Area website for my Academy. I enjoy being in touch with all the latest news from members. I love listening to music and have an eclectic taste. I also write articles in French and Spanish for language magazines and find the research very interesting.

Where did you grow up?
Rural Surrey – a small village between Dorking and Reigate.

What was your first job?
Teaching absolute beginners to ride my faithful and reliable Pony Club cob, Magic. It really helped me to develop my own riding.

What other pets do you have and what are their names?
My adored showjumper Take That III – fondly known as "Fred" . Then there's Magic, of course. I have a cute Cavalier King Charles Spaniel called Abbie. My extremely clever rescue dog Peppa. A pair of rescued cats – Asa, the Siamese, who is missing a tail and a HUGE Norwegian Forest Cat called Cher. Then there are my four chickens, raised from day old chicks, called Sugar, Spice, Bubble and Squeak. Finally, I have three enormous Koi Carp who have survived a house move and last year's Siberian Winter!

What is your favourite movie?
"Ferris Bueller's Day Off" – a teen coming of age movie which came out in the 1980's and is still relevant today.

What do you/ did you want to be when you grew up?
I would like a job in International Media – perhaps journalism or marketing. I would also enjoy teaching languages.

Where in the world would you like to visit?
Australia, the Amazon and the Galapagos Islands.

What would you say your biggest achievement was?
Aged 10 coming 3rd out of 70 Pony Club campers in the Chase Me Charlie on Magic. We jumped 1m15 and her best height to date had been 70cm. I don't know who was more surprised – Magic, me or my DC!

Where do you see yourself 10 years from now?
Working and living abroad and riding along the beaches in the sunshine.

Tell us something about yourself that people wouldn't necessarily know?
I have an interest in Astronomy. I find the night sky weird, a little bit creepy, but totally fascinating.