Thursday, April 19, 2018
Robert takes the 40,000€ runner-up prize fund!
Monday 01 August 2011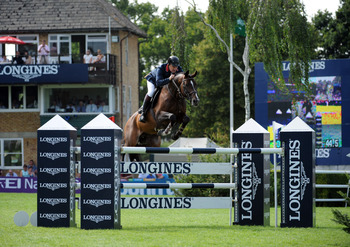 Robert takes the 40,000€ runner-up prize fund!
Yesterday saw the Longines King George V Gold Cup take place at the Longines Royal International Horse Show, Hickstead. With ten riders (five being British) making it through to the jump off it was clearly going to be a hard fought competition. This is exactly what it was with the crowds on the edge of their seats right up until the last rider crossed the finish line.
It was Kent Farrington, from the USA who took the top spot by jumping a double clear in a jump off time of 54.36 seconds with Britain's Robert Smith slotting into second place having narrowly missed out by less than a second. Robert partnered Talan, a horse he jointly owns with Di & Pennie Cornish. The Concorde stallion showed his class by jumping two foot-perfect rounds in a time of 54.80 seconds.
Last year's winner Tim Stockdale and Fresh Direct Kalico Bay were also in the prize money. Although they put in two fantastic rounds, their time was not quite quick enough leaving them in fourth position. The ten year old bay gelding is owned by Colin Garratt who is a long standing owner of Tims.
Great Britain had a further three riders in the placings. Ben Maher and Tripple X III took eighth place, with Peter Charles and Murka's Vindicat W just behind in ninth position along with Ellen Whitaker and Equimax Ocolado taking tenth.
Longines King George V Gold Cup
TheLongines Royal International Horse Show – 31st July 2011
1st USA – Kent Farrington / Uceko – 0/0 54.36 seconds
2nd GBR - Robert Smith / Talan – 0/0 54.80 seconds
3rd NED - Leon Thijssen / Tyson – 0/0 54.96 seconds
4th GBR - Tim Stockdale / Fresh Direct Kalico Bay – 0/0 56.73 seconds
8th GBR - Ben Maher / Tripple X III – 0/4 54.79 seconds
9th GBR - Peter Charles / Murka's Vindicat W – 0/4 58.54 seconds
10th GBR - Ellen Whitaker / Equimax Ocolado – 0/8 54.93 seconds
For more information on the show and a full list of results please visit www.hickstead.co.uk

Photo courtesy of

Kathryn Pearn