Tuesday, April 24, 2018
Olivia Spurrell is awarded the NAF Shining Star Award for October
Monday 07 November 2011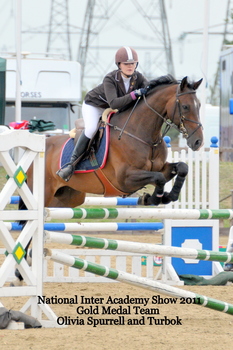 Olivia is a very ambitious fifteen year old from Aylesbury, Buckinghamshire and was nominated for this award by her Junior Academy Coach Mandy McGlynn. Having decided at fourteen that her pony was not going to achieve the goals that she wanted she decided to buy a horse so she could develop her riding skills and be more competitive in adult classes by the age of sixteen.

Since then she has worked extremely hard within the academy being a regular attendee both at riding and non riding activities. Olivia was also awarded the most improved rider at last year's presentations and is now currently working towards her NAF Five Star Performance Awards.

This year saw Olivia as a member of the winning team at the Junior Academy Team Competition which was held at Weston Lawns back in August.
Tracey Lloyd, NAF (Natural Animal Feeds) commented, ''Congratulations to Olivia
on your achievement and dedication, It's wonderful to support the young show jumpers of today, and the British Showjumping coaches such as Mandy McGlynn. NAF wishes you the best of luck for your future in Showjumping. Tracey added; we are pleased to be working with British Showjumping to support the rise in young talent, through the NAF Five Star Programme, and Shining Star Awards.''
The NAF Shining Star Award was introduced when NAF became a British Showjumping Business Partner. The award is for members of a Junior Academy who have shown a great deal of commitment, progression and outstanding behaviour along with their riding ability and much more. Riders are nominated by their lead coach, and then judged and awarded by NAF to one person each month.
ENDS
Notes to editors