Monday, June 25, 2018
Nicola Braidwood - RoR League Winner 2010 - 2011
Tuesday 17 January 2012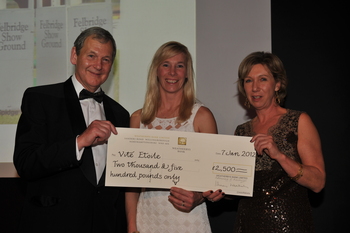 Nicola Braidwood was the winner of the 2010 - 2011 ROR league and was presented her award at The Breeders Awards Dinner this month.

Nicola said about her horse, "Vite Etoile has been a fantastic mare still going strong at the age of 21 after racing and then a career in Eventing. She is now competing at British Showjumping and this win is the icing on the cake really. I had a really enjoyable time at the Breeders Awards Dinner, it was a brilliant night."

Well done Nicola!
The Retraining of Racehorse's awards are given to the owners of the six highest graded notional prize money horses during the twelve month period between 1st October 2010 and 30th September 2011.
To be eligible horses need to be registered with RoR and have raced in the UK, in addition to being a member of British Showjumping.