Wednesday, April 25, 2018
Judges Conference 2012 at Addington Manor
Friday 24 February 2012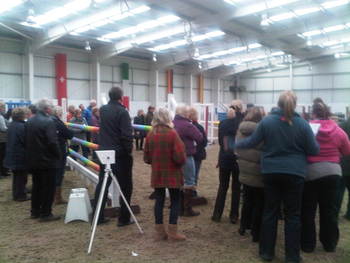 The Annual Judges Conference in the South took place this year at Addington Manor on 29th January 2012 and had an outstanding turnout of over eighty officials! Several of those who attended were new to the team of our officials and have now successfully passed their Judges exams, so a big welcome and well done to them!
The day consisted of updates in the morning followed by a written quiz and practical session in the arena after lunch.
An assessment process has been launched to allow those who are interested in officiating in course building. Becoming a Club Course builder is not only the first step to becoming one of British Showjumping's officials, but it will allow you to build yourselves at your Club shows. Please contact me on tasha.sewell@britishshowjumping.co.uk for a complete list of assessors near you.
The assessment can be carried out at a Club show of your choice at a time and date which suits both yourself and the assessor. The assessors will be paid £75 for doing the assessment and British Showjumping is happy to pay this to help you achieve your goal in becoming an official.