Hickstead Derby 2018
Thursday 28 June 2018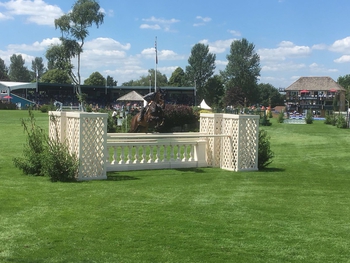 Hicktead provided so many moments for so many people, below are just a few quotes from those who won, those who had a first attempt and those who are planning a future attempt and so close !!
WINNERS - Pippa Funnell sums up the feeling a olt of people had re the winner, husband William and Billy Buckingham -
'It isn't often I like to brag but I have to say I was so incredibly proud of William yesterday winning his fourth Hickstead Derby. He gave a masterclass, a real exhibition in how to ride and jump clear round that notoriously difficulty track. He gave Billy Buckingham every chance to show his class.
Very special day for all of us at The Billy Stud, a huge team effort for all those that work so hard for us. I can't mention all of them individually but I have to say Bubbles(Zoe Herbert) and Lucy Townley have played key roles in this horses career.
A special mention must go to Donal Barnwell, great friend, partner and top breeder.
Thank you to dear friend Lizzie Bunn and her family for putting on yet another world class show'
Buckingham you were a
FIRST ATTEMPT AT THE DERBY -Luke Thompson -
"I get knocked down, but I get up again"
'So the trip to Hickstead didn't quite go to plan. Our first 4* competition, competing against some of the greatest names in show jumping.
The plan had been to jump the derby on Sunday, however the atmosphere got to me and I didn't give Prego the confident rounds that he needed. We did however still qualify to jump but we decided that this year just wasn't for us. So after feeling pretty disappointed we rerouted to ring 2 (which Prego loves) and jumped dc in the 1.35m to finish 8th and dc in the 1.25m derby to finish 3rd, with a hairy moment in the jump off when we face planted going round a corner after pulling a shoe.
So our trip didn't go to plan, but we came home in one piece and ready to fight another day. And I came down the bank and jumped the double of ditches too'
THE FUTURE - Jess Blatchford -
'Really pleased with the horses over 3 days of jumping at hickstead. Molly got a couple of foxhunter double clears and finished in the money today, Vistolano picked up a 4th place in the newcomers out of 90 and China also jumped well just not quite our show. Thanks a lot Robert and Kate for all your help'
SO CLOSE - Paul Crago -
A brilliant effort by BS UKCC Level 3 Coach to lead the Speed Dearby up until the last rider, oh so close!!
'Well what day at Hickstead today!
Valentino 2nd in the Hickstead Bunn Leisure Speed Derby!
Jumped his socks of and so unlucky not to win in the end beaten by Matt Sampson, the last to go.
Thank you everyone for all your messages txts and kind words, it is very very much appreciated, thank you!'