Tuesday, May 21, 2013
CARLO & SKELTON VICTORY IN THE £219,000
Monday 06 June 2011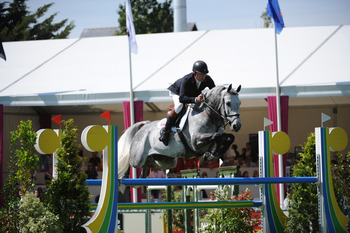 CARLO & SKELTON VICTORY IN THE £219,000
ST GALLEN GRAND PRIX
Nick Skelton and the incredible in-form ten year old grey stallion Carlo took the bulk of the prize money available in the £219,000 St Gallen Grand Prix yesterday.
With only ten of the thirty six starters going clear GBR put in a great performance yesterday with three of the ten being British riders. But it was Warwickshire based Nick Skelton with Beverley Widdowson's impressive Carlo that saw off the others producing a brilliant double clear in a time that shaved more than a second from USA's Rich Fellers and Christine McCrea who were relegated into second and third place respectively.
A torrential downpour stopped play two thirds of the way through the first round when the grass arena became so waterlogged, there was nothing else that could be done other than wait for the sun to come back out and dry it up. This it duly did and after about a half an hour break and some moving around of the jumps to ensure the going was as safe as possible the competition continued with only a handful of competitors deciding not to continue.
Going into the second round the ten competitors seemed to fight it out in gladiatorial style with the amount of prize money at stake. A fierce competition that ensured the spectators who had all come out hoping to see some great performances were most definitely not disappointed.
Entering into the arena as the eighth competitor Nick was aware of Rich Fellers clear round in a time that also looked incredibly fast, but in true world class style Nick gave Carlo an absolutely fantastic ride bringing him home not only clear but shaving just over a second off the time. It was Christine McCrea who came in behind him jumping clear but in a slower time followed by GBR's young Scott Brash from Scotland with his fathers Intertoy Z. However, although looking set to come home in a fast time an unfortunate error resulted in a stop with Scott incurring 4 faults and 2 time penalties putting them in 10th place.
It was Robert Smith with his own and Di & Pennie Cornish's bay stallion Talan who made up the third of the British riders through to the jump off. But a pole down in the second round pushed them into 7th place making the difference of three places in terms of prize money as their time would have been fast enough for them to secure 4th position if a clear had ensued.
Rob Hoekstra, World Class Showjumping Performance Manager commented straight after the event "We have been knocking on the door for the past few weeks and we knew it was going to happen. Today it has all come together and I'm highly delighted with the way that all the horses performed. With respect to Nick's fantastic win, what more can I say other than both the horse and rider were unbelievable and it was a really deserved win".
Nick Skelton further added "Carlo jumped fantastically. He's been jumping well all year and last week he was fourth in the Grand Prix at Rome. He's still relatively inexperienced but it's all going right and I couldn't ask for more from him. I always thought he was a super young horse when I saw him as a five year old. I was fortunate to get him when he was seven and he hasn't proved me wrong – he is everything you could want in a horse".

Nick's focus will now be preparing Carlo for Cannes next week with the long term objective of producing him in the hope of inclusion on the European Championship team which will head out to Madrid in September.
A fantastic day for British Showjumping and an incredibly deserving win for Nick Skelton, Carlo and his owner Beverley Widdowson.
Full results can be found by visiting www.csio.ch
ENDS
Notes to editors