2 Day Adult Showjumping Camp - 'Up Your Game'
Sunday 24 June 2018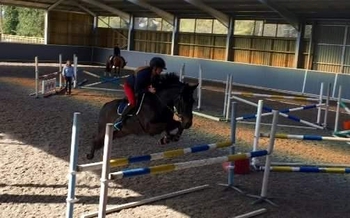 Up your Game' 2 Day Showjumping Camp - 80cm - 1.10m
Wednesday 10th October- Thursday 11th October.
With Christine Shubrook, BS Accredited UKCC Level 3 Coach & Master Trainer for NLP, Jenni Winter
@ Thundry Farm, Surrey, GU8 6LE
Any if these sound like you?

??Wondering about giving affiliated jumping a go, but not sure if you are good enough.

??Find jumping at home a breeze but it doesn't go to plan at the show.

??Comfortable jumping at your level, would like to move up a class, but have 'something' holding you back.

??Have a younger horse and feel it is time to push the boundaries, not sure if you are both ready.
If you are jumping 80cm - 1.00m classes and looking to move up a level or just be more consistent at your level, this two day clinic will boost your winter season.
Working with our two coaches, we will make improvements in your ridden skills and give you psychological techniques to prepare you, mind & body, for competition. You will learn why goal setting is important to riders at all levels, and how to effectively set them for a positive outcome.
The ridden sessions are designed to build your confidence, in stepping up your game, by working on technical skills and your horse's rideability.
By the end of the clinic you will have, gained some new mental and ridden skills, be prepared for competition, have a clear plan on what you need to work on in your training to 'up your game' and take on the challenge of the next level.
Over the two days you will have six sessions. Three ridden sessions, a Goal setting session, two mindset sessions. A light lunch both days Cost £210, early bird saver (by August 31st) £197.00.
Stabling on site for those wanting to stay over
Email coaching@thundry.co.uk to book your place.
www.thundry.co.uk to see our location and details of the yard.