TheraplateUK Liverpool International Horse Show 2018 - Congratulations to Nicole Lockhead Anderson riding Gangnam Style ll taking 3rd.
Sunday 30 December 2018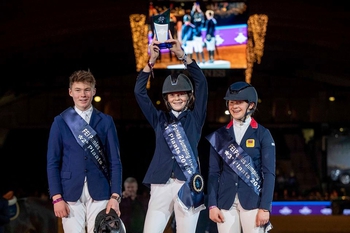 Great Britain took second and third position on the podium today whilst Katie Power (IRE) took the victory with Ghost Rider in the FEI Ponies Jumping Trophy Final at Mechelen, Belgium this evening. In a thrilling deciding class that went right down to the wire, the 15-year-old from Dungarvan in County Waterford produced the only double-clear performance to leave the result beyond doubt.
Britain's Red Morgan (14) with Bodyssee des Avelines and Nicole Lockhead Anderson (16) riding Gangnam Style ll finished second and third, while Sweden's Ebba Danielsson, who is only 12 years old, lined up in fourth place with Dynamite Spartacus.
At the inaugural FEI Ponies Jumping Trophy Final 12 months ago, Ireland's Seamus Hughes-Kennedy reigned supreme, and the Irish came out in big numbers again this year with Power lying third after the three qualifying legs staged in Herning (DEN) and Lyon (FRA) in October, and at Stuttgart (GER) in November. It was Portugal's Molly Hughes Bravo who topped the leaderboard going into the Final, with Ireland's Max Wachman, Power, Charlotte Houston and Aisling McGuinness filling the next four places, and Britain's Shaunie Greig in sixth ahead of compatriot Lockhead Anderson in seventh place. But there was a big shake-up of the standings during the week.
There was plenty of pressure in the preliminary classes, and it was Lockhead Anderson, a member of the European gold medal winning British side at Bishops Burton, who came out on top in Thursday's first speed competition in which Power finished eighth. In Friday's second qualifier it was Morgan who headed the line-up, with Power again down the line in seventh spot.
But her pony, the 16-year-old Irish-bred grey gelding Ghost Rider, is a veteran at this level of competition and just kept improving. He seemed to know that today was the day, and never touched a pole to clinch it. "Day one was not very good because my helmet slipped and I had two fences down. Day two was better with only one down, and today my pony jumped amazing!" Power explained.
Mechelen Sport Director, Peter Bollen, explained the concept of the FEI Jumping Ponies Trophy saying "This series was created to help pony riders and young riders to get to a better level. The first year was not easy, but now we have a lot of riders willing to compete and they learn a lot by going to shows alongside the 5-Star riders"
And he had some exciting news about the future of the series which will, once again, conclude at the Belgian venue next December. "In 2019 there will be four qualifiers, because the December show in Paris will join the series", he confirmed.
Full results: https://bit.ly/2s1Ue5j