SCOTTISH COURSE DESIGNERS & OFFICIALS TRAINING - 3rd April 2019
Sunday 07 April 2019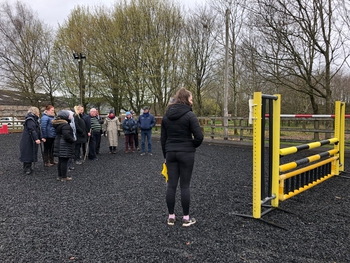 Thank you to Horsescotland for their financial support in part funding the Course Designers and Officials Training day on 3rd April 2019 at Inchcoonans.
Despite the miserable weather it was a fantastic day hosted by International Course Designer & Judge George Blackie and International Judge Jane Pelly.
The day involved the morning session in the outdoor arena assessing a course built for young horses and making changes where applicable, incorporating timing set up and giving everyone a chance to have a go.
After a fantastic lunch, National Stewards, Kaz McCoy & Linda Lucey explained their role in the sport. Chairperson of the Scottish Committee & Vet, Anne Logan kindly came along to discuss the best practice for using horse screens in the unfortunate event of euthanasia.
To finish off the day, a questions and answers session.
This training and educational day was open to all British Showjumping Officials at no cost, for those who attended it will go towards your retention criteria.