Scottish Branch Veterans Championship - Saturday 20th April Muirmill
Thursday 18 April 2019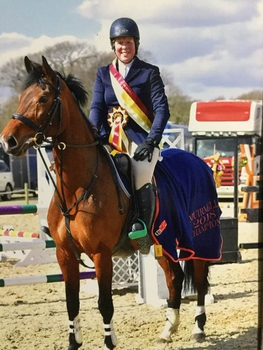 Remember all Senior riders of a certain age - Scottish Veteran Championship takes place on Saturday 20th April at Muirmill Spring Show. Chance to win that smashing huge Trophy which will be presented at BS Ball 2020.
Class details below:
Class 18-Arena 1-Scottish Branch Veterans Championship TableA7.Speed350mpm.StartHeight1.10m. For registered horses to be ridden by Adult Lady Members45yearsandover in the current year or Adult Gentlemen Members45 years and over in the current year who have not competed in classes above 1.30m in the current year. The winner will receive the Scottish Branch Veterans Championship Trophy which will be presented at the Scottish BranchBall2020. Prizes: 1st: £100.00, 2nd: £60.00, 3rd: £50.00, 4th: £30.00, 5th: £25.00, 6th: £20.00, 7th: £20.00, Total: £305.00. Entry Fee=£20.00
Sandra Low Mitchell has possession at the moment who has the courage and skill to take it from her!!!