Nicole Lockhead Anderson wins the Charles Britton Equestrian Construction Winter JA Classic Final
Monday 02 July 2018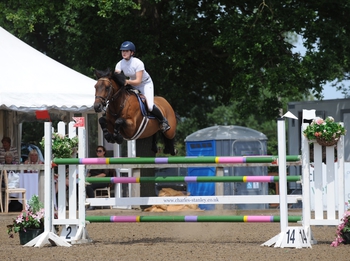 Nicole Lockhead Anderson not only produced the fastest time but secured victory in the Charles Britton Equestrian Construction Winter JA Classic Final at South View Equestrian Centre in Winsford, Cheshire with the sole double clear on the impressive Gangnam Style II.
"He is amazing and it is so nice to win on one who has been with us since a baby six-year-old," said Nicole, who made her journey from Scotland well worthwhile.
Only four from 17 ponies reached the jump-off over course-designer Mark McGowan's technical 12-fence track but a confident Nicole, 16, and her mother Claire Lockhead's Irish-bred 9-year-old swept into an unbeatable lead. The talented Gangnam Style – current Scope Dunglenn JA and National Pony Silver League Champion at the National Championships 2017 – never looked like touching a fence.
"He's pretty chilled and takes it all in his stride and he's so careful, I can trust him to anything – we took a long run at the final planks and he just popped it," said Nicole.
The pony has a unique record at this venue.
"He loves it here – in 2016 and 2017 he won the Blue Chip Pony Newcomers Second Round to qualify for HOYS, and in 2015 he finished second in the same class, again qualifying for the HOYS final," said Nicole.
Last year's winner Lily Freeman-Attwood was out to retain her title in the final draw but an ultra-tight turn in to a sizeable double was a turn too far for Valmy De Treille. But the plucky French-bred nine-year-old mare quickly returned to jump it on the second attempt and their fast time earned second place.
Alice Weightman's opening round also finished on just one mistake for third place with the Dutch-bred 11-year-old Cindy VI and Tahnia Jordan Jones claimed fourth with the 12-year-old Jumper.
Charles Britton Equestrian Construction Winter JA Classic Final – Sunday 1st July 2018
1st Nicole Lockhead Anderson & Gangnam Style II - 0/0 - 44.44 seconds
2nd Lily Freeman Attwood & Valmy De Treille - 0/4 – 51.06 seconds
3rd Alice Weightman & Cindy VI - 0/4 – 51.69 seconds
4th Tahnia Jordan Jones - 0/E
NB: Qualifications will be updated pending official grading of results