GB Veterans Win European Championships Team Gold
Friday 29 June 2018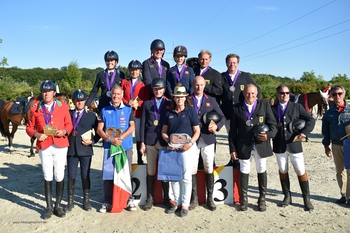 The British Veteran Team, riding under the title sponsor banner of Team NAF, won Gold earlier this evening at the Veteran European Championships in Dagobertshausen in Germany.
The team consisting of Derek Morton from Stone, Staffordshire with KBS High Quality, a 7 year-old bay gelding owned by Zoe Snedker, Keith Stockdale from Wadebridge, Cornwall with his own 10 year-old grey gelding Grauffs Clear Round, Catherine Fowdrey from Polegate, East Sussex with her own 9 year-old bay mare Emalia and James Loffet from Cheltenham, Gloucestershire with the 14 year-old bay gelding Zandokan H owned by Edward Howard took the win over Italy and Germany who took Silver and Bronze respectively.
Carrying just 2.62 penalties forward from yesterday's speed competition, the first round of today's class saw GB finish on a zero penalty score with clears from Derek, Catherine and James with Keith being the dropscore following an elimination. The second round saw anchor rider James Loffett post another clear to finish on a zero penalty score across both rounds, one of only a few to achieve this, with the other riders all finishing on just 4 penalties each.
With Individual medals being decided on Sunday 1st July, the standings for those in contention look promising for Great Britain with three of the team riders within the top 10 after the Team competition had finished. James Loffett sits in 4th place on the leaderboard with Catherine Fowdrey in 6th and Derek Morton in 9th.
For further information on the show and full results visit www.reitsportanlage-dagobertshausen.com.
British Showjumping would like to thank NAF, title sponsors of the Senior Veterans European Team along the Children, Junior, Young Rider and Senior Nations Cup teams.
NAF's premium range of Five Star brands include Superflex, Superflex Senior, PROFEET, Optimum, Magic, Oestress and Respirator Boost with quality at the heart of everything they do. They are a UFAS (Universal Feed Assurance Scheme), GMP+ (International Feed Assurance Scheme) and BETA NOPS (Naturally Occuring Prohibited Substances) accredited company and this enables them to guarantee full traceability on all the natural ingredients they utilise in their formulations, which are also selected in compliance with the FEI guidelines for Clean Sport. For further information, visit www.naf-equine.eu/uk/index.jsp.
The GBR showjumping teams are supported by the British Equestrian Federation's World Class Programme, funded by UK Sport through the National Lottery. The Programme focuses on identifying talent, developing potential and maximising medal-winning performances on the world stage.