South Yorkshire Isabel Warde-Aldam Wins at Allens Hill
Friday 18 May 2018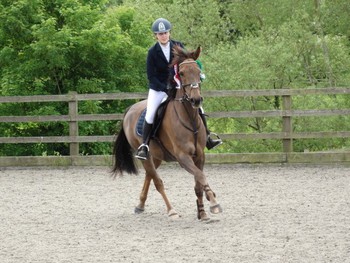 South Yorkshire's Isabel Warde-Aldam secures the Horseware Bronze League Qualifier at Allens Hill Equestrian Centre
Battling it out against forty-one keen combinations at Allens Hill Equestrian Centre in Pershore, Worcestershire, Isabel Warde-Aldam secured top spot in the Horseware Bronze League Qualifier following three perfectly executed rounds of showjumping.
Each competitor started the class with high hopes of claiming one of the three qualification spots available for the Horseware Bronze League Semi Finals, which will run in August.
Following two hotly contested rounds, twenty-one determined combinations remained for the final jump off where all eyes fell on the clock to decide the winner.
Isabel from Doncaster, South Yorkshire rode her own 11 year-old liver chestnut gelding, Lux II, to an impressive win. Jumping two consistently clear rounds to take their place in the jump off, this pair really picked up speed to cross the finish line with all the fences still standing in 31.30 seconds.
Allens Hill Equestrian Centre – Saturday 12th May 2018
Horseware Bronze League Qualifier
1st Isabel Warde-Aldam & Lux II – 0/0/0 – 31.30 seconds
2nd Olivia Davies & Spoonie – 0/0/0 – 32.18 seconds
3rd Alice Wilson & Lady Larino – 0/0/0 – 34.27 seconds
NB: Qualifications will be updated pending official grading of results.