Robert Murphy wins the inaugural Voltaire Design Under 25 British Championship
Friday 21 December 2018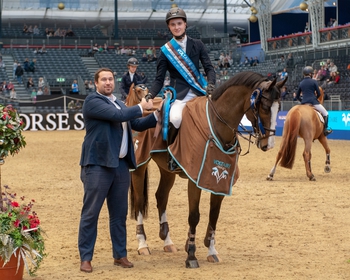 Eighteen year-old Robert Murphy from Preston, Lancashire certainly saved the best until last today when he took the Voltaire Design Under 25 British Championship title from final draw at Olympia, The London International Horse Show. Robert partnered Stacey Webb's 11 year-old dark bay gelding Newbridges Chablis SW with whom he won Team Silver at the Junior European Championships in Fontainebleau, France earlier on this year.
Twenty-four invited riders battled it out for the title in the impressive Olympia Grand Hall and this number was whittled down to eight talented combinations who went head to head in a thrilling jump off. Three double clears were produced overall, which meant that the placings were to be decided by the all-important clock.
Harry Charles, aged 19, from Alton, Hampshire was first to go in the jump off on the 13 year-old chestnut gelding Vivaldi du Dom owned by Peter Charles MBE. The pair not only set the standard for the jump off, they also set the time to beat. Harry took all of the shortcuts to finish with a double clear in 30.60 seconds.
Eighteen year-old Jodie Hall Mcateer from Borehamwood, Hertfordshire mounted a strong challenge on board Fantom, a 9 year-old British bred bay gelding owned by Mandy Hall. Jodie gave Fantom a fantastic ride to return home with a double clear in 31.10 seconds.
The fastest round of the day was to come from Robert and Newbridges Chablis SW who capitalised on being drawn as the last combination to go. Robert knew exactly what he had to do to take the title today and after making all of the tight turns, he then galloped down to the last fence which was the Voltaire Design vertical. Robert met the fence just right and jumped clear in a time of 30.13 seconds to take victory.
Talking shortly after the class, a thrilled Robert said "It's been a good year for the horse and I and it's nice to top it off with this win. This is the second time that I've ridden in a young rider class at Olympia and today definitely went as planned. The course today was well built and catered for the range of riders that came forward. I first came to Olympia aged nine or ten on a 128cm pony and the atmosphere here gives you such a special feeling, it's a privilege to jump at Olympia. It's also so important to have a young rider class at a show like this and it's good to have a great sponsor supporting it."
For the full results from today's class, click here.
Image: Robert Murphy & Newbridges Chablis SW , winners of the Voltaire Design Under 25 British Championship at Olympia, The London International Horse Show with Matt Tarrant, General Manager of Voltaire Design UK (CREDIT: Stephen Bartholomew Photography)
Voltaire Design:
Established in 2010 Voltaire Design has become the leading French manufacturer of high performance sports saddles. Handmade in France using the finest French leather, Voltaire Design saddles have become renowned for their innovation, comfort and the ability to fully customise each saddle to the horse and rider. Voltaire Design produce saddles for the forward thinking rider who demands style and substance, while prioritising freedom of movement for the horse, together with elegance, durability and customer service. Voltaire Design combine comfort and performance for the horse and rider, alongside innovative design to produce saddles that enable every rider to fulfil their potential. For further information, please visit http://voltairedesign.com.