Jon Fletcher wins at North Cumbria Area Show
Tuesday 29 May 2018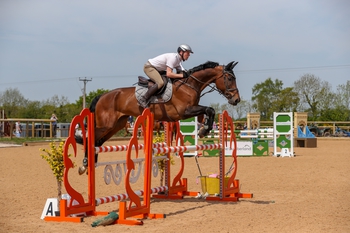 Image Credit: Digital Works Ltd.
Cumbria's Jon Fletcher scoops the Horseware Bronze League Qualifier at the British Showjumping Cumbria Area Show
Thirty-six hopeful starters stepped up at the British Showjumping Cumbria Area Show and it was local rider Jon Fletcher from Penrith, Cumbria who scooped victory in the Horseware Bronze League Qualifier having produced one of only three treble clears within the strong field.
With just three qualifying places up for grabs, Jon took a strong hold to dominate the line-up clinching both first and third spot. Fighting off tough competition from his follow competitors who were all focused on claiming victory and qualification for the Horseware Bronze League Semi Finals, which will run in August, Jon snatched victory on board the his own 19 year-old bay gelding Chemo Z.
With nine combinations through to the final jump off against the clock, the competition was tight and a swift turn of speed along with split second accuracy was required to secure a clear round fast enough to earn one of the sought after qualifying tickets. With this in mind Jon guided Chemo Z with speed and precision to cross the line over the newly shortened course in 33.67 seconds. After producing yet another highly competitive clear round Jon also collected third place, this time on board his 16 year-old bay gelding Vote Z.
British Showjumping Cumbria Area Show – Saturday 19th May 2018
Horseware Bronze League Qualifier
1st Jon Fletcher & Chemo Z – 0/0/0 – 33.67 seconds
2nd Meghan Ballantyne & Cookie de Reve – 0/0/0 – 35.33 seconds
3rd Jon Fletcher & Vote Z – 0/0/0 – 36.25 seconds
NB: Qualifications will be updated pending official grading of results.