Annabel Shields Wins at Fife
Tuesday 29 May 2018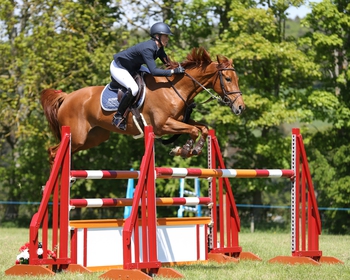 Durham's Annabel Shields dominates the British Horse Feeds Speedi-Beet HOYS Grade C Qualifier at Fife Agricultural Show
The second British Horse Feeds Speedi-Beet HOYS Grade C Qualifier of the season saw twenty-two combinations start in the class at the Fife Agricultural Show in Kinloss on Saturday and it was Annabel Shields who claimed the top two places.
With three qualification places available for the British Horse Feeds Speedi-Beet HOYS Grade C Championship Final at Horse of the Year Show, each combination came forward with much determination to tackle the testing 1.35m track put in place by course designer Nigel Jess.
With just six clear rounds produced in round one, in the jump off they faced a shortened but equally challenging course and to the delight of the crowd it was lady rider Annabel who galloped home to victory.
Annabel travelled from Durham to contest the class and her journey was certainly worthwhile having taken ownership of two of the top three placings. Victory was hers on board the 7 year-old chestnut mare Gerona, owned by Robert Shields as they produced a seamless clear round in the time of 43.57 seconds. Snapping up second place, this time Annabel partnered with Epke, the 9 year-old black gelding owned by Chloe Page, and they crossed the finish line in 46.55 seconds.
Fife Agricultural Show – Saturday 19th May 2018
British Horse Feeds Speedi-Beet HOYS Grade C Qualifier
1st Annabel Shields & Gerona – 0/0 – 43.57 seconds
2nd Annabel Shields & Epke– 0/0 – 46.55 seconds
3rd Douglas Duffin & Enola Van Schuttershof – 0/0 – 48.08 seconds
NB: Qualifications will be updated pending official grading of results.
The Horse of the Year Show will take place from the 3th – 7th October 2018 at Birmingham's NEC.
ENDS
Notes to Editors:
For further media enquiries, please contact the British Showjumping Press Office on 02476 698806 or press@britishshowjumping.co.uk

Speedi-Beet from British Horse Feeds:
British Horse Feeds, makers of Speedi-Beet, is the equine feed division of I'Anson Bros Limited and is based in Masham, North Yorkshire. British Horse Feeds is best known for its flagship product 'Speedi-Beet' which, thanks to the unique patented process has revolutionized the feeding of beet pulp. Speedi-Beet has improved nutrient availability and soaks in just 10 minutes, compared to 24 hours for sugar beet pellets. It's a great way to add quality fibre to your horse's diet for slow release energy. Fibre-Beet, a formulated blend containing Speedi-Beet and alfalfa has the benefits of Speedi-Beet with extra conditioning. For more information contact British Horse Feeds on 01765 680300 or visit our website on www.britishhorsefeeds.com.