Jonathan Egmore wins the KBIS Insurance Senior British Novice Second Round at Houghton International Horse Trials
Friday 01 June 2018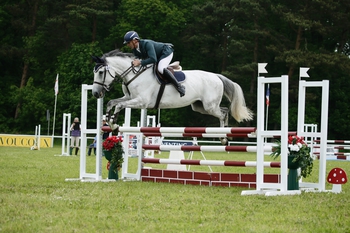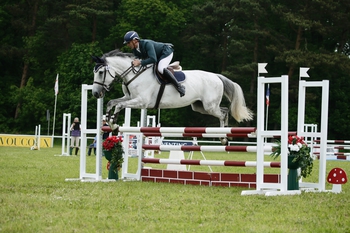 Watched by an eager crowd at Houghton International Horse Trials in Kings Lynn, Norfolk, Jonathan Egmore jumped in to first place in the KBIS Insurance Senior British Novice Second Round hosted by the Norfolk Showjumping Club on Saturday.
A keen field of horses and riders set out with the aim of securing a place in the KBIS Insurance Senior British Novice Championship Final which is to be held at the British Showjumping National Championships in August. With a treble clear in their sights, ten combinations went through to the final jump off and it was up to the all-important clock to decide the winner.
Local rider Jonathan from Diss, Norfolk rode Nicola Witney's 6 year-old dapple grey mare, Cambola Des Fontaines straight into first place. Proving to be a consistent pairing for a place in the jump off, this combination picked up the pace to deliver another clean round to take the win in 41.20 seconds.
With another five combinations also achieving a treble clear, a total of six combinations now go forward to the KBIS Insurance Senior British Novice Second Rounds Final.
Houghton International Horse Trials – Saturday 26th May 2018
KBIS Insurance Senior British Novice Second Round
1st Jonathan Egmore & Cambola Des Fontaines – 0/0/0 – 41.20 seconds
2nd Alexander Smith & Edana I – 0/0/0 – 42.31 seconds
3rd Myles Reeves & Gravity – 0/0/0 – 43.92 seconds
4th Jacqueline Sutherland & Touchdowns Golden Prince -0/0/0 – 46.80 seconds
5th Jenny Mitchell & Drumury Luidam - 0/0/0 – 45.66 seconds – 54.11 seconds
6th Diane Gregory & Ginaria Landzicht Z – 0/0/0 – 58.11 seconds
NB: Qualifications will be updated pending grading of results.
Image Credit - Ultimate Images
The British Showjumping National Championships 2018 will be hosted at the National Agricultural and Exhibition Centre (NAEC), Stoneleigh Park, Warwickshire during the 7th - 12th August.
KBIS British Equestrian Insurance:
KBIS British Equestrian Insurance is the UK's leading independent horse insurance specialists, With over twenty years of experience KBIS offer a range of policies for the leisure horse to high value sports horses with a range of veterinary cover options. KBIS's product range includes horsebox and trailer insurance, property insurance, event and show insurance, standalone personal accident cover as well as a specialist liability department offer cover for private individuals, businesses and events and shows. For further information, visit www.kbis.co.uk.