Monday, May 20, 2013
Congratulations to Elizabeth Falkinder!
Tuesday 29 May 2012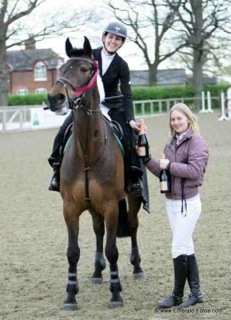 Congratulations to Lincoln's, Elizabeth Falkinder who has been doing very well in competition recently with Karla II, Quainton Layla and Gunstone As If.
Karla III qualified for HOYS Amateur Classic 2nd at the first qualifier at South View Equestrian, she has also qualified for the Charles Stanley International Amateur Class at Bishop Burton in March
Karla III won the ABC Handicap at Weston Lawns last week beating Laura Kraut by 200ths of a second.
Gunstone As If was 2nd at the Newark and Notts County Show in the Speed Class on the Sunday, also won the Power and Speed Class at the South View Show at the beginning of May.
Quainton Layla qualified for the 5 year old class at Weston Lawns' Young Horse Show.

We wish Elizabeth continuing success throughout the summer season!