Welsh Masters 2018 - Round Up
Monday 16 April 2018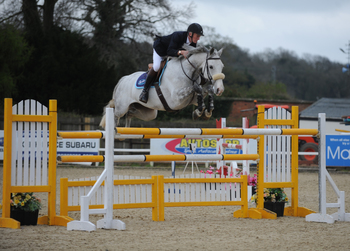 The rain tried its hardest to put a dampener on the 16th Welsh Masters at the David Broome Event Centre near Chepstow, but huge efforts by the organising team drew praise from all appreciative competitors. And some cracking showjumping was witnessed – even the sun peeked through on the odd occasion.
Richard Barton was crowned Welsh Masters Champion with a superb Equestrian Surfaces Grand Prix win on Gay Hartley's talented Donata.
Only eight of fifty-two starters returned home clean over course-designer Raf Suarez's thirteen fence track, and the jump-off offered plenty of tight turns and angles options. James Winter set the standard in the opening draw on Cosmo Boy but Alfie Bradstock soon wiped more than a second away on Benedictus.
The lead was brief. Using smooth, deceptively fast lines, Richard guided the Ukato 10-year-old mare Donata into the lead with more than two seconds to spare.
"She's consistent and she loves to jump. The course suited her as she's so careful and I can let her run on," said Richard, who is now aiming to step this mare up to bigger classes.
On the other end of the age scale, 15-year-old Oliver Fletcher showed maturity beyond his years in the final draw to ride into second place on the Cajas 15-year-old KBIS Caicos, just 0.72 seconds behind Richard.
Richard was one of the many riders who heaped praise on the Broome family for providing a great show despite the weather.
"It's a good place run by professional, friendly people who care. Splitting the huge sand arena into three instead of jumping on the grass worked well – and the rings were still bigger than most indoor arenas," he said.
Mark Edwards did Wales proud to take a Welsh Masters Championship, outpacing all in a competitive seventeen strong jump-off to take the Graham Heath Gents title with Antony Hill's 9-year-old Quidde Du Buisson Z.
"The first three fences were quite tight but once we got the vertical to oxer double out of the way, I could use his natural pace and keep flowing – the double was the difficult fence," said Mark, who only rides the gelding at shows.
Smooth lines and ultra-sharp angles earned Sienna Charles the Graham Heath Ladies title on the 11-year-old mare Chaitanya in a hotly-contended, twenty-two strong jump-off.
"She's amazing, fresh and enjoys a little buck, but she was so careful out there," said Sienna, the youngest in the class at aged 15.
Matt Sampson again conquered the 7 and 8-year-old Welsh Masters title, taking first and second with Cristo Beech and Conlando 55. In 2017, the Yorkshireman had taken the top two places on Finnegan D and Obolensky.
Matt's incredibly quick round on the It's the Business 7-year-old Cristo Beech – bred in Staffordshire by Derek Morton – held off all challenges to win by more than a second.
"He has everything, lots of scope and ultra-careful, I think he's fantastic and a future Grand Prix horse," said Matt, who rolled into second place on Carron Nicol's Conlando 55 at their first show together.
Olivia Gent topped a very fast twenty-two horse jump-off to land the Hazelden Saddlery 6-year-old Welsh Masters title on Michael Barnard's Chacco Star.
"She's easy in the ring and at home," said Olivia, who jumped this Chacco Blue mare on the Spanish sunshine tour with consistent results.
Joe Trunkfield had three in the final jump-off of the 5-year-old and claimed the Championship with his final ride, Elizabeth Macklin's Emerald Van't Ruytershof gelding Imeraldretto I.
"He's big and weak still but wants to jump," said Joe, who also finished third and fourth on Ivory and Neriske De Crunyeledon in the fourteen strong jump-off.
Rikki Gradley secured the Sillett Equestrian 1.25m Welsh Masters by 0.76 seconds in a very competitive twenty-Nine horse jump-off on the home-bred Cassandra Z II.
"She's lazy at home but ups her game at a show," said Rikki, on the 8-year-old by the Chellano Z stallion Cunning Devil Z and out of a Clyde Cruiser mare his wife Claire rode.
Sian Edwards kept the Welsh flag flying and executed all the shortcuts at optimum pace to take the NAF 1.20m Championship on the 8-year-old Troo Contest (Super Trooper De Ness x Cornet Obolensky) in a hard-fought twenty-three horse jump-off.
"He did very little last year because I was pregnant, he's like a baby 7-year-old and a favourite on the yard – even my nine-month-old William can sit on him," said Sian.
Surveyor Stevie Jenkins, who works for the Welsh government, can only fit riding into his busy schedule at weekends, but came out with the 18-year-old Nolton Its Oscar to win the concluding Bailey Farm Feeds 1.15m title.
"I'm a fair-weather rider now but he knows his job, we've been together for 10 years now," said Stevie.
Samantha Kellett raced to victory to claim the Keith Price Garages 1.10m Championship on V Ramzes Z, a 15-year-old bought six years ago via the late Tom Searle. They are regulars in this particular final, having finished second last year and won in 2016.
"He certainly likes it here," said Samantha an accountant and one-horse owner aiming for HOYS in the Silver League Final this year.
Megan White claimed the Deebees Rosettes 1.05m with Crystal Cove, an 11-year-old by Goldex bought just one month earlier.
"We'd been unlucky all week, but she pulled it out of the bag for the Championship," said Kent-based Megan, who works full-time at a dealing yard and racing yard.
Please click here to view the full results.
NB: Qualifications will be updated on the website pending official grading of results.