Monday, June 25, 2018
Three take the top honours in the final Speedi-Beet HOYS Grade C Qualifier at Bicton Arena
Tuesday 12 September 2017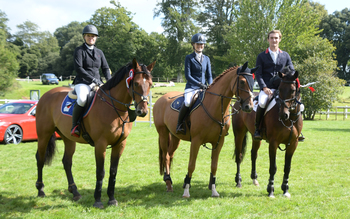 In the final Speedi-Beet HOYS Grade C Qualifier at Bicton Arena in Salterton, Devon, three talented riders took home equal first place and they were William Fletcher, Gail Burchmore and Emily Rowe.
With the remaining three qualification places on offer for the Speedi-Beet HOYS Grade C Final at the Horse of the Year Show, each of the thirty competitors had their sights set on claiming a place in the top three before taking on the technical course. With the first round seeing just three clear rounds posted, the riders elected to share the spoils and equal first place.
The fastest clear round was delivered by William Fletcher from Faringdon, Oxfordshire riding Graham Fletcher's 11 year-old brown gelding, Persimmon. This pairing put their foot down to cross the finish line in 77.83 seconds.
Making the journey from Aberdare, Mid Glamorgan, Gail Burchmore put forward a strong round, riding All Byself, a 7 year-old bay gelding owned by Alan Thomas. This partnership jumped a foot perfect clear in 79.70 seconds.
The final clear of the day came from Emily Rowe from Southampton, Hampshire on board her 8 year-old chestnut gelding George. This combination took a slower line to leave all the fences standing in 82.83 seconds.
Bicton Arena – Saturday 9th September 2017
Speedi-Beet HOYS Grade C Qualifier
=1st William Fletcher & Persimmon – 0 – 77.83 seconds
=1st Gail Burchmore & All Byself – 0 – 79.70 seconds
=1st Emily Rowe & George – 0 – 82.83 seconds
NB: Qualifications will be updated pending official grading of results.
Image Credit - ESP Photographic
The Horse of the Year Show will take place from the 4th – 8th October 2017 at Birmingham's NEC.
Speedi-Beet from British Horse Feeds:
British Horse Feeds, makers of Speedi-Beet, is the equine feed division of I'Anson Bros Limited and is based in Masham, North Yorkshire. British Horse Feeds is best known for its flagship product 'Speedi-Beet' which, thanks to the unique patented process has revolutionized the feeding of beet pulp. Speedi-Beet has improved nutrient availability and soaks in just 10 minutes, compared to 24 hours for sugar beet pellets. It's a great way to add quality fibre to your horse's diet for slow release energy. Fibre-Beet, a formulated blend containing Speedi-Beet and alfalfa has the benefits of Speedi-Beet with extra conditioning. For more information contact British Horse Feeds on 01765 680300 or visit our website on www.britishhorsefeeds.com.