Sunday, May 20, 2018
Thomas Hooper wins The Stable Company HOYS 138cms Qualifier at Port Royal Equestrian Centre
Thursday 13 July 2017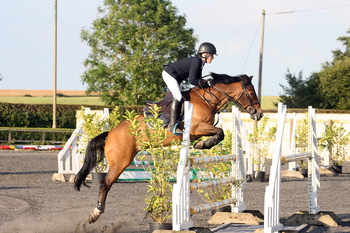 The sun shone down on each of the thirty-nine starters contesting The Stable Company HOYS 138cms Qualifier on Sunday and it proved to be a competitive class to watch for all of those attending the Pony Premier Show at Port Royal Equestrian Centre in Holme on Spalding Moor, York.
With three places on offer for The Stable Company HOYS 138cms Championship Final held at the prestigious Horse of the Year Show in October, a highly fought class unfolded. Rounds one and two saw poles fall to leave just seven determined combinations to do battle against the clock in the final jump off.
Thomas Hooper, aged 13, from Brentwood, Essex made his journey up the country worthwhile when he emerged as the winner of the qualifier on board Misty Bay II, a 14 year-old bay mare owned by Richard Hooper. The pair showed a great turn of pace in the jump off to blast through the finish with a treble clear in 37.88 seconds. Second place was filled by 12 year-old Madison Heath from Nantwich, Cheshire riding The Jacaloupe, a 17 year-old strawberry roan gelding owned by Graham Heath. This partnership took their place on the podium with a treble clear in 39.68 seconds.
Thomas Francis-Jones, aged 12, from Brackley, Northamptonshire scooped third place on Kiltormer Hero, a 13 year-old grey gelding owned by Amanda Francis-Jones. Three clears rounds from this combination in 42.63 seconds ensured that they had done enough to book their place at the Horse of the Year Show.
Port Royal Equestrian Centre – Saturday 8th July 2017
The Stable Company HOYS 138cms Qualifier
1st Thomas Hooper & Misty Bay II – 0/0/0 – 37.88 seconds
2nd Madison Heath & The Jacaloupe – 0/0/0 – 39.68 seconds
3rd Tom Francis-Jones & Kiltormer Hero – 0/0/0 – 42.63 seconds
NB: Qualifications will be updated pending official grading of results.
Image Credit - Jumpforit.co.uk
The Horse of the Year Show 2017 will take place from the 4th – 8th October 2017 at Birmingham's NEC.
The Stable Company:
The Stable Company has crafted a reputation for the design and construction of world-class equestrian buildings. The expert team has experience in everything from traditional stable design, through to contemporary American-style barns. With unbeatable timber knowledge and design expertise, buildings from The Stable Company combine practicality with unrivalled aesthetic impact. So, whether you need small stables for personal use, or a commercial scheme, The Stable Company can help and will work alongside you to maximise your space and exceed your expectations. For more information, visit www.thestablecompany.com.