The Liverpool International Horse Show Selects Park Palace Ponies as Charitable Partner
Thursday 09 November 2017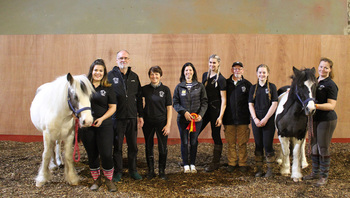 The team at The Liverpool International Horse Show has selected social enterprise, Park Palace Ponies, as their chosen charity for this year's show.
Set up in May this year, Park Palace Ponies is the brainchild of a group of Liverpool riders who launched the riding school in a disused cinema on Mill Street in Dingle, Liverpool. The centre has been set up to give local children, who wouldn't otherwise have the chance, the opportunity of learning to ride in a small, friendly environment.
As well as having Park Palace Ponies on-site to spread their message, the event will also play host to their inaugural graduation ceremony. More than 50 students who have completed the riding course will receive a certificate and exclusive Liverpool Horse Show goodie bag in front of their family and friends, with each child receiving two complimentary tickets to the show on the warm-up day, Thursday, December 28.
Keith Hackett, the Chair of the Directors at Park Palace Ponies comments: "It is fantastic to be the chosen charity for such a brilliant event as the Liverpool International Horse Show and will really make such a difference to what we are trying to achieve. The graduation ceremony is just the icing on the cake and we absolutely can't wait for the kids to celebrate their hard work."
Run as a social enterprise, Park Palace Ponies is aimed at providing access to equestrian learning in places, such as inner-city Liverpool, where it was not previously possible. Currently Park Palace Ponies caters for children around eight-years-old, due to the size of both the facility and the ponies available, with their young riders graduating to Gellings Equestrian Centre once they are competent in their riding at walk and trot. Park Palace Ponies also offers courses in pony care.
Liverpool International Horse Show President, Nina Barbour said: "The team at Park Palace Ponies are truly making a difference to children in the area and we are really looking forward to working with them as the chosen charitable partner for the show. It is incredible that the Directors, staff and volunteers have established such an excellent centre in Dingle and are helping so many young children. We look forward to seeing the graduation ceremony and celebrating the young riders who have worked so hard."
The Liverpool International Horse Show will be held at Liverpool's Echo Arena and runs from Friday 29th to Sunday 31st December. Setting the bar for equestrian events, some of the world's finest riders, including Olympians and Global sports stars, will compete in the Hope Valley Saddlery Grand Prix on the final evening. There will be an exhilarating mix of classes such as the 'edge of seat' Equitop Myoplast Puissance that takes centre stage on Saturday night as well as brand new competitons such as the 'Inter 1 Freestyle' dressage to music on the Friday evening.
From live music and performances, motor bike displays and much more, the three-day event will be jam packed full of family entertainment, all building up to a spectacular countdown to the New Year.
To purchase tickets and for further information visit www.liverpoolhorseshow.com