Friday, May 24, 2013
The British Young Horse Showjumping Championships
Monday 20 August 2012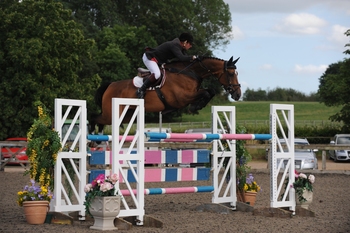 Talent, scope and potential were on display at the British Young Horse Showjumping Championships. Horse of the Year Show (HOYS) qualification and attendance at Lanaken's World Breeding Championships were on offer alongside generous prize money and British Showjumping/BEF equine pathway bonuses for horses jumping clear every day.

John Hales looks to have another star as the scopey Anyway II powered his way to the seven-year-old title and HOYS seven-year-old qualification under Robert Whitaker.
"He's so careful" said Robert, who took on the ride in January and will step up the No Limit son, "He's ready to go on to bigger classes."
Sharon Quigley took second and a HOYS seven-year-old place on Charles Britton's Adermie 52, a gelding by S Alba 71 out of a Rash R mare. They also shared the bonus with third-placed Tim Stockdale and The Toymaker, a Holsteiner gelding with Casall/Joost bloodlines.
Louise Pavitt hit form, taking a magnificent double on Brendon Stud's Don VHP Z and Sussex Caretino.
The consistent Sussex Caretino won the four-year-old in 2010 and headed the 2011 British bred five-year-old here.
This year the homebred mare by Caretino Glory excelled. Last-to-go Louise kept a cool head in the final draw to produce a classic clear to claim victory, HOYS six-year-old qualification, £2,000 breeder's prize and, as the only one to go clear every day, £4,000 bonus to pocket a grand total of £7,000.
"It's a good day at the office" said owner Shirley Light, "It's good to help a show like this with sponsorship, but it's nice to win a bit back!"
A strong opener from Louise on Don VHP Z headed the second of the stallions and mares competitions, open to horses eight-years-old and over.
"He's the only horse I'd trust to gallop at a big upright" said Louise on her final dash which secured victory by over three sec on the Diamant De Semilly eight-year-old – "and he's nippy turning back for a big horse."
Second-placed Dale Burnham's Velvet VL claimed second and £500 bonus for the highest placed mare.
Helen Tredwell topped the first mares and stallions class on the bouncy Opportunity B to collect the £1,200 first prize and £500 bonus.
"I honestly thought Louise and Don VHP would win this too" said Helen, "but they tapped out the last and gave us a chance."
Damian Charles and Sarah Rutherford's Batavia T topped the non British bred six-year-old championship with a sizzling round from the front.
"I'm chuffed, she hasn't done anything like this before" said Damien, who has competed this Cavalier/Renville mare since April, "but she's improved every day here."
HOYS six-year-old qualification went to Louise (Sussex Caretino), Dale Burnham (Handels Classic) from the British breds, and four non British breds – Damien and Batavia T, Olivia Dales (Casparall), Stuart Harvey (Forever IV), Carolyn Curcio (Bailey VI).
Tim Page took the British bred five-year-old title on Sue Hodgson's Ferndale Special K, a coloured gelding by grade A showjumper Pilgrim's K out of an Irish mare.
"He's a little superstar" said owner Sue of Team AGL who bought Special K from her good friend and breeder Penny Podmore, "He's naturally fast and I knew if he reached the jump-off he was in with a chance."
Olivia Dales and Russ Underwood's handsome stallion Chopin claimed the non British bred five-year-old in a hard-fought, 14-strong jump-off.
"He's very consistent and was so easy and quiet to break" said Olivia, who got the Verdi/Great Pleasure son as a two-year-old from Geoff Glazzard.
They are on the equine pathway and Olivia, 17, has been selected for the Excel Talent programme.
"We've really benefitted from pathway training with John Ledingham and Corinne Bracken" she said.
Seven five-year-olds shared the 'clear round all show' bonus of £4,000, including Olivia Dales' Chopin. Two others from the non British bred section were Helen Tredwell on Rowland and Ali Fernyhough's Countess II, a Caretino daughter, and Danielle Ryder's Cartino Z/Amethist bred Ceasar XI.
Pippa Funnell brought three Billy Stud homebreds to bonus status from the British breds – the Billy Congo offspring Billy Jaminca and stallion Billy Um Bongo and Billy Corrib, a daughter of Pippa's eventing star Billy Shannon – and these were joined by Nicky Boulter on Andy Doswell's Carnaval Cocktail.
The four-year-old class has evolved to become considerably stronger this year, and 19 talented youngsters – eight British bred and 11 non-British – jumped double clears in the final to take equal first and a share of the double clear bonus prize – worth £105 each.
For full results please click here