Suffolk's Lara Boman becomes the NAF Shining Star for May
Thursday 17 May 2018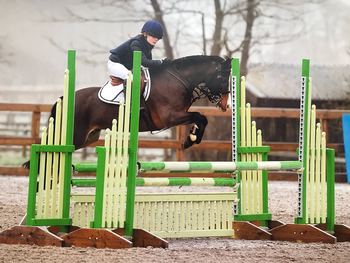 Nine year-old Lara Boman from Newmarket, Suffolk has been awarded May's NAF Shining Star after demonstrating her drive for progression and a professional attitude towards competition as a member of the Suffolk Junior Academy.
Lara was put forward for the award by Suffolk Junior Academy Coach Mia Palles Clark "Lara has been an active member of our academy for the last 18 months. She's dedicated and full of enthusiasm for the sport. Lara is a serious rider and loves to compete, she always behaves professionally and pats her pony regardless of it being the best round ever or slightly less than perfect! She sets a great example to other academy members. It's a huge step she's made in such a short time from unaffiliated 70cm classes to joining the academy and attending her first British Showjumping Pony Premier Show. She has competed for the Suffolk academy in the mini team at Addington and won her class and is now looking forward to representing the team at the National Junior Academy Championships in August.
"She is a lovely young lady that I am very proud of with a bright future in showjumping. She is the example of the academy system working exactly as it should to help and support riders and their parents to start in British Showjumping and progress accordingly."
After starting her riding career in the Pony Club at the age of 3, Lara joined British Showjumping in 2016 and with the support of her coach Mia Palles Clark, has come on in leaps and bounds. Lara commented "I felt so happy to become a NAF Shining Star, it's very exciting and I want to say a big thank you to Mia for nominating me and for all her help. Showjumping is really fun, I love winning and enjoy being able to go to compete and train with my friends. Being a member of the Academy allows me to compete as part of a team and represent Suffolk which is really good."
Branwen Griffin, from NAF, commented "Lara has been working incredibly hard to achieve memorable results with her pony. For someone so young she has a fantastic attitude, competitive nature and always puts her ponies first. It is great to hear how training with her local Academy has really helped with her progression onto bigger tracks. We look forward to seeing Lara in action. She is one to watch for the future – a deserving Shining Star!"
Lara will receive some NAF equine products to use alongside the NAF Show Off Shampoo, which she currently uses as it smells so good and keeps her ponies sparkling, especially Ed's white blaze.
The NAF Shining Star Award was introduced when NAF became a British Showjumping Business Partner. The award is for members of a Junior Academy who have shown a great deal of commitment, progression and outstanding behaviour along with their riding ability and much more. Riders are nominated by their lead coach, and then judged and awarded by NAF to one person each month.
NAF:
NAF is the most respected and trusted brand for supplements and applications for your horses in the UK today. Using proven ingredients and creating unique effective formulations NAF has an extensive portfolio of products designed to offer something for your horse's every need.
NAF are proud to be Official Suppliers to the British Equestrian Teams and Business Partners to British Showjumping supporting the NAF Five Star Training programme and the Shining Star Awards. Jessica Mendoza says "NAF have a great team of veterinary scientists and nutritionists, they are a big help to me and are there at the end of the phone with free advice if and when you need it, 0800 373106 or info@naf-uk.com."