Thursday, April 26, 2018
Sinead Cox takes the Pony Discovery Championship title
Thursday 10 August 2017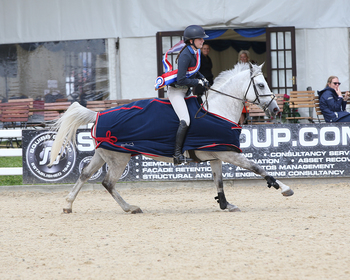 Course builder Krissy Spiller set a tough course for many in the Pony Discovery Championship Final, seeing just 14 riders through to the jump off out of 88 starters at the British Showjumping National Championships at the NAEC Stoneleigh, Warwickshire.
Saving the best until last in the jump off, 14 year old Sinead Cox shrugged off the pressure and went clear in the fastest time to take the win riding eight year old Lislan Cruising Lady. "I knew I needed to go fast as there was a tough time to beat so I just tried to stay focused," said Sinead.
Sinead has had the mare since 2014 just after she had been broken in and they have both come on leaps and bounds. Having travelled to the show from the Isle of Man, this week they have competed in the Blue Chip Pony Newcomers Masters as well as the Squibb Group Pony Foxhunter Masters where she was placed ninth. The pair have no plans for the rest of the summer so were delighted to be ending on a high.