Monday, June 25, 2018
Showjumping Hospitality at its Very Best
Tuesday 16 May 2017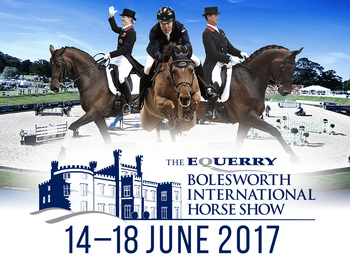 THIS year's Equerry Bolesworth International Horse Show will see a host of leading names in action – June 14 to 18 at Bolesworth Castle near Chester.
British legends John and Michael Whitaker are set to compete with son Robert and nephew William also heading to the magnificent setting and international arena which has become much sought after in the world of show jumping.
Regular competitors William Funnell, Billy Twomey and Anthony Condon, will also be in action while Britain's young female star, Jessica Mendoza is set to make her way to Cheshire.
The Equerry Grand Prix on the Sunday, June 18, is always a fantastic occasion so why not treat yourself to the very best and book hospitality in the stunning luxury Bolesworth International VIP marquee overlooking the main arena.
The five-days offer a unique experience, combining top-level dressage and showjumping competitions with great shopping, a host of thrilling water sports on the lake and fun family entertainment.
The extensive shopping village will be open for spectators to enjoy, together with a full range of bars and restaurants with the Bolesworth Bistro marque also open every evening with Bar/DJ and Live Music till late.
To Book VIP Hospitality
View the show jumping in style from the ringside luxury VIP marquee. Packages will include admission & VIP parking; Continental breakfast, lunch & Afternoon Tea or evening dinner. Hospitality starts at £120 per person.
All enquiries to: Melanie Simm 01829 307676 or melanie@bolesworth.com
General Admission Tickets
Get 40% off gate prices if you pre-book your tickets online. General admission tickets are available at a pre-sale price of just £12 for the Thursday and Friday, and £20 for Wednesday, Saturday and Sunday. Under-12s can enjoy free admission, while a season ticket is at a not-to-be-missed pre-sale price of £40. Tickets can be bought online at www.bolesworthinternational.com