Scott Brash writes history in Aachen
Sunday 31 May 2015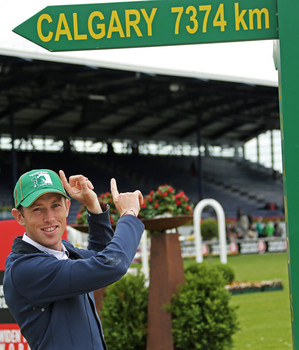 What a triumph, what a sensation: Scott Brash is writing history. The World No.1 and London 2012 Olympic Team Gold medallist is the first rider ever to win two Major Shows in succession. Previous to today's victory in the Rolex Grand Prix at the World Equestrian Festival Aachen 2015, he also triumphed at the CHI in Geneva, Switzerland in December. If he also manages to ride to victory at the next Major competition, the Spruce Meadows "Masters" in September in Canada, Scott will become a legend – namely as the first winner of the Rolex Grand Slam of Showjumping.
Seven riders from five nations reached the jump-off. Scott was the last to compete in the jump-off and demonstrated nerves of steel. Because Daniel Deußer (Germany) had put him under pressure with a fast clear round, the clock had stopped at 48.37 seconds. And then came Scott: At the tricky point before a vertical he chose the long route, Hello Sanctos who is owned by Lord & Lady Kirkham and Lord & Lady Harris raced forward, one last jump over the Rolex obstacle, all eyes cast on the clock: 48.04 seconds. Victory! The spectators also played a big role today, because they fired on he said enthusiastically: "I can quite seriously say from the bottom of my heart that you are the best crowd in the world," stated Scott in Aachen.
The Rolex Grand Slam unites the three Major shows - Aachen, Spruce Meadows (Canada) and Geneva. If a rider wins the Grand Prix at these three competitions in succession, he wins the Rolex Grand Slam – a feat which no rider has managed to achieve so far. A Rolex Grand Slam brings the rider a bonus of one million Euros in addition to the prize-money, for two victories in a row there is a bonus of 500,000 Euros. After his victory at the CHI Geneva last December and today here in Aachen, Scott has already secured himself half a million Euros in addition to the prize-money. "Of course, that was going through my head, but in the jump-off, I simply concentrated on one jump after the other."
For Scott the journey continues in September. The next Major show will be staged from September 9th-13th, in Canada, at the Spruce Meadows "Masters" in Calgary. In order to secure himself the half a million, Scott merely has to take part at the "Masters". "I will ride there – even if I have broken my leg," joked Brash. Of course, there is much more at stake for the Scottish rider: It is his chance to take the last step on the way to the Rolex Grand Slam. If he rides to victory in the "CP International presented by Rolex" he will win the third Major show in succession. What an amazing story!