Pony of the Year Show 2018
Tuesday 03 April 2018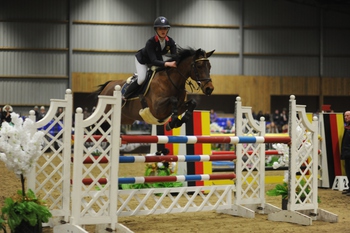 All roads for pony riders led to Onley Grounds near Rugby, Warwickshire, the new home of Pony of the Year Show. And riders chased after the fabulous prizes on offer, including saddles, riding hats, cuddly toys, boots, bridles, rugs, sashes and of course, Easter eggs.
Lily Freeman-Attwood notched up an incredible double with victory in the top-billed JA and seven-year-old Grands Prix.
Executing lightning-quick turns and utilising Valmy De Treille's big stride, Lily claimed a hard-fought JA Championship on the French-bred 9-year-old mare.
"I can trust her, she's so honest and will go on a really long stride," said Lily, who also won a brand new Whitaker saddle as leading rider.
Alice Weightman rode into second place with Cindy VI and Claudia Moore netted third on Elando Van De Roshoeve ahead of Perdi Digby, who posted the steadiest of the treble clears on Kayleighs Star for fourth.
Lily also picked up fifth on Capability Brown – winner of the 7-year-old title with the only treble clear.
"He has loads of energy and will jump all day," said Lily, who has this consistent gelding through to the Hickstead Winter JC and Charles Britton Equestrian Construction Winter JA Classic Finals.
Claudia landed the 138cm Grand Prix for the second consecutive year on the 17-year-old Tullineaskey Fear Deas in a three-way jump-off.
"He's amazing, I can't wait for the rest of the season with him," said Claudia, 13, who was also crowned leading rider. "I played safe and went round to the plank and it paid off."
Tia Squibb dismissed nerves in a head-to-head decider to claim the 128cm Grand Prix with the 21-year-old forever-young Wyndham Tom Thumb with a big six second margin.
"He knows his job and lights up in the ring. I had to go for it in the jump-off as first to go and he didn't let me down," said Tia, who also claimed the leading rider award with Gorm And Ban – winner of both prelim rounds.
Noora von Bulow settled for second on Peppino Il Grande."
In a tremendous atmosphere as spectators urged on riders, Adele Shaw claimed the 11-year-old and under Grand Prix in fine style on Manor Pearl.
"I could hear everyone shouting, it made me go faster," said Adele, who acquired the 13-year-old mare through trainer Vicky de Souza.
Sienna Palin impressed the judges, International riders Matt Sampson and Chloe Winchester, to be crowned 10-year-old and under Style and Performance Champion on Kip Kip Hooray.
"I love him and trust him, he's 22 now, knows his job and loves jumping," said Cheshire-based Sienna.
"The standard was good, it was a hard class to judge," said Matt.
Smooth, tight turns and a gallop to the last secured the Talentseekers Championship for Cleo Loizzo and the 11-year-old Banner Girl.
"She didn't have any points when she came over from Ireland, we've worked our way up from British Novice and learnt together," said Cleo, who jumped in the 2017 Hickstead Winter JC and HOYS Newcomer Finals.
Elizabeth Baker took fourth in the Grand Prix on Adam's Fancy but their consistency over the show earned the leading rider award.
Courtney Young secured the JC title and leading rider award with an early round using ultra-tight turns on Bacardi III.
"I wasn't sure whether to go inside to the last-but-one vertical and decided at the last minute and the only stride was a really long one, but I trusted him," said Courtney, who has produced the 7-year-old for the last two years.
Rachel Proudley used her late draw in the eight-strong jump-off to claim the Novice title on the 8-year-old Jet III.
"She's easy, lovely to do and has a massive jump," said Rachel, who now has her sights set on qualifying for the Royal Highland JC Final.
Oliver Tuff posted the sole treble clear to take the 5 and 6-year-old Grand Prix on Paul Kelly's home-bred 6-year-old Heartbreaker Express.
"She's so easy and loves the job," said Oliver on the British-bred mare by Womaniser, a HOYS 2017 Newcomer finalist.
Tommy Goody celebrated his 11th birthday by winning the Prelim Grand Prix on Hardwickview Yen Man.
The 11-year-old 'Max' was purchased four years ago.
"He's cheeky and I fell off a lot at first, but we've grown together and he's got a home for life now," said Tommy.
Maidenhead-based 15-year-old Mia Price outpaced all seventeen jump-off rivals to take the JC title on the 8-year-old Ardvalley Dun Lady.
"We got in the turns but she's got a big stride and is best at galloping," said Mia.
A delighted Eddie Jones concluded the show for 2018 winning the Intro Grand prix with Solo Savannah.
"I can't believe it, this is my biggest win ever," said Eddie, 12, who has ridden this 11-year-old mare for the last 12 months, moving up from British Novice to Newcomer level.
Fourth-placed Lucy Spittle claimed the leading rider award with Brecklyns Not A Problem.
Megan Li headed a four-horse jump-off to take the Children on Horses Championship on the Darco 14-year-old Eclips Van Erpekom.
"I struggled switching from my 138cm to horses, but Eclips is a superstar and my trainer Simon Davies really helps me," said Megan, 13.
Madison Heath – second and fourth in the Grand Prix on Venus III and Burgana – was crowned leading rider.
NB: Qualifications will be updated on the website pending official grading of results.