Paul Barker takes the Horse & Country TV Challenge Cup at Horse of the Year Show
Sunday 07 October 2018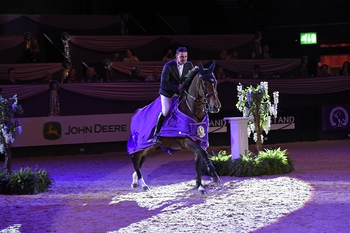 British rider Paul Barker rediscovered a winning formula at Horse of the Year Show when he claimed a stylish victory at the NEC Genting Arena in Birmingham on Sunday for the final day of competition. Paul, from Northallerton in Yorkshire, triumphed in the Horse & Country TV Challenge Cup, a two-phase competition that sees riders jump the first part of a course, before progressing to a timed second part if they are clear.
Paul's time of 26.72 seconds aboard Dalton W proved too much for the rest, finishing 25 hundredths of a second in front of runner-up Richard Howley on Electra B, with Frenchman Geoffroy De Coligny in third on Ramona Robinz and Nigel Coupe taking fourth on Mystic Independence.
"It's always fantastic winning here," said Paul, who collected a winner's purse of £3,300. "It is probably four or five years since I won a class at HOYS so it's great, and getting an international class victory makes it particularly special. He is a good horse; he has plenty of confidence, and the course suited him. There were a few turns, and he could keep it smooth before a nice little run down to the last fence. He felt very good."
Paul's achievement also crowned a long qualification process to reach Horse of the Year Show, one that began for him in April.
"The qualifying for here starts in April and ends in July, and you have to keep fighting away," he added. "It's 1.40-metre events and above, and the top two go through to come here. It is always great to win here. You get a very good feeling."
Link to audio interview with Paul Barker.
Photo Credit: 1st Class Images