Monica Ballard claims the Horseware Bronze League Qualifier win at Crofton Manor Equestrian Centre
Monday 04 June 2018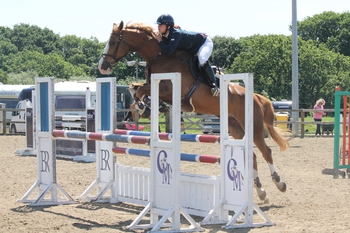 With three clear rounds of showjumping under her belt it was Monica Ballard who claimed top spot in the Horseware Bronze League Qualifier which took place at Crofton Manor Equestrian Centre near Fareham, Hampshire on Sunday.
Each competitor started the class with high hopes of claiming one of the three qualification spots available for the Horseware Bronze League Semi Finals, which will run in August.
Following two closely fought rounds, just nine remained for the final jump off where all eyes fell on the clock to decide the winner.
Monica Ballard from Sittingbourne, Kent delivered the winning performance on board her own 12 year-old chestnut mare, Anemoon Van De Kapel. With two stylish clear rounds already in hand, Monica headed in to the jump off with speed and determination to cross the finish line in 33.29 seconds to complete her treble clear.
Crofton Manor Equestrian Centre – Sunday 3rd June 2018
Horseware Bronze League Qualifier
1st Monica Ballard & Anemoon Van De Kapel – 0/0/0 – 33.29 seconds
2nd Katie Coomes & Carnalecka Dancer – 0/0/0 – 34.93 seconds
3rd Henrietta Godfrey & Qiamo Z – 0/0/0 – 38.93 seconds
NB: Qualifications will be updated pending official grading of results.
Image Credit - Simply Event Photos
Horseware was founded in 1985 in Dundalk, Ireland, by Tom and Carol MacGuinness. After months of research and hand stitching the prototype of the now iconic Rambo Original was born, setting the standard for modern rug design. Today, Horseware is the global leader in equestrian products, with a growing range of innovative, practical and design-led products for horses, riders and pets. All of Horseware's products are designed and developed in Dundalk, Ireland. Their Rambo turnouts are still manufactured in Dundalk where they employ 125 people. 250 people are employed Horseware's two factories in China, 80 in Cambodia and 36 in the USA. Horseware believes that 'because we create, we innovate' and through innovation aim to make a tangible difference to the lives of you, your horses, and your pets. For further information, please visit www.horseware.com.