Michaela Webb wins the British Horse Feeds Speedi-Beet HOYS Grade C Qualifier at Nottinghamshire County Show
Tuesday 14 May 2019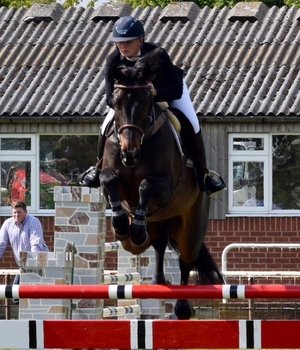 The 2019 British Horse Feeds Speedi-Beet HOYS Grade C Qualifiers got underway on Sunday at the Nottinghamshire County Show which took place on the Newark Showground. Michaela Webb fought off thirty-eight other challengers to take the top spot.
With just three qualification places available for the British Horse Feeds Speedi-Beet HOYS Grade C Championship Final at Horse of the Year Show, the class proved to be a great spectacle. Paul Thompson built Sunday's course and he managed to whittle down the initial starting field to ten for the jump off.
Michaela Webb, who is based in Holcot, Northamptonshire, made her journey to the show worthwhile when she delivered the win on board Stellar Skylight, a 10 year-old dark bay gelding owned by Caroline Ross. The combination secured their place in the jump off with a strong clear round and they went on to deliver a second immaculate clear in 45.08 seconds. This was to prove fast enough to beat the five other clears that were produced in the jump off.
Nottinghamshire County Show – Sunday 12th May 2019
British Horse Feeds Speedi-Beet HOYS Grade C Qualifier
1st Michaela Webb & Stellar Skylight – 0/0 – 45.08 seconds
2nd Allana Clutterbuck & Vykinbay – 0/0 – 46.95 seconds
3rd Joseph Trunkfield & Edamora – 0/0 – 47.58 seconds
NB: Qualifications will be updated pending official grading of results.
The Horse of the Year Show 2019 will take place from the 2nd – 6th October at Birmingham's NEC.
Speedi-Beet from British Horse Feeds:
British Horse Feeds, makers of Speedi-Beet, is the equine feed division of I'Anson Bros Limited and is based in Masham, North Yorkshire. British Horse Feeds is best known for its flagship product 'Speedi-Beet' which, thanks to the unique patented process has revolutionized the feeding of beet pulp. Speedi-Beet has improved nutrient availability and soaks in just 10 minutes, compared to 24 hours for sugar beet pellets. It's a great way to add quality fibre to your horse's diet for slow release energy. Fibre-Beet, a formulated blend containing Speedi-Beet and alfalfa has the benefits of Speedi-Beet with extra conditioning. For more information contact British Horse Feeds on 01765 680300 or visit our website on www.britishhorsefeeds.com.