Madison Heath takes The Stable Company 138cm Pony Championship
Sunday 08 October 2017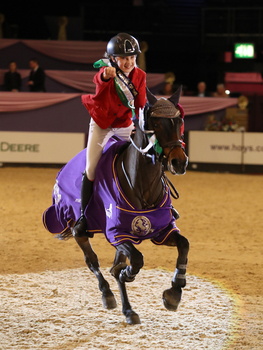 Madison Heath added another title to her growing collection when she won The Stable Company 138cm Championship at Horse of the Year Show. The 12-year-old from Nantwich in Cheshire guided Sonas Barney (the 2015 138cm Horse of the Year Show champion with Nicole Lockhead-Anderson) to a high-class victory.
Five combinations from 19 starters made it through to the jump-off, and it was Jake Myers on The Agent that set the pace, clocking 35.48 seconds, but the stage was set for Madison to take charge, and she delivered in style by posting a time of 33.60 seconds.
"I am really proud," she said. "I knew he could do it because he won here two years ago with Nicole. I always feel confident with his pony - he is amazing. I was so determined to win - I wasn't going to take second for an answer - and I am so happy that I actually managed to do it."
Madison displayed the confidence and composure of a seasoned veteran, and it was no surprise to hear her declare afterwards: "I really want to get to the Olympics one day."
And as for coping with the famous Horse of the Year Show atmosphere, she added: "I try to think I am at home jumping. I didn't really see the audience. I just focus on the pony."
LINK TO AUDIO INTERVIEW WITH MADISON HEATH:
http://www.lloydbell.co.uk/access/client_zone/HOYS17_Heath_day5.mp3
The Stable Company:
The Stable Company has crafted a reputation for the design and construction of world-class equestrian buildings. The expert team has experience in everything from traditional stable design, through to contemporary American-style barns. With unbeatable timber knowledge and design expertise, buildings from The Stable Company combine practicality with unrivalled aesthetic impact. So, whether you need small stables for personal use, or a commercial scheme, The Stable Company can help and will work alongside you to maximise your space and exceed your expectations. For more information, visit www.thestablecompany.com.
Image Credit: 1st Class Images