Sunday, May 20, 2018
Lauren Roach claims top spot in the Blue Chip Pony Newcomers Second Round at Port Royal Equestrian Centre
Wednesday 12 July 2017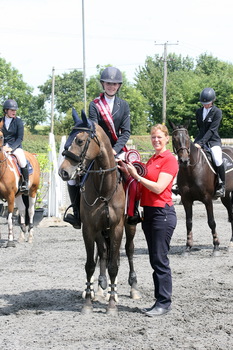 At the hotly contested Pony Premier Show at Port Royal Equestrian Centre in Holme on Spalding Moor, York, seventy-three competitors came forward to compete in the Blue Chip Pony Newcomers Second Round and it was Lauren Roach who claimed her place at the top of the leader board with three strong clear rounds.
With two Horse of the Year Show tickets on offer for this October's Blue Chip Pony Newcomers Championship Final, the determination of each competitor was obvious as the class began. After two challenging rounds, twenty combinations remained to go head to head against the clock in the final jump-off.
Fifteen year-old Lauren Roach from Slough, Berkshire landed first place with Kerry Grimster's 8 year-old bay mare, Renkum Starlight. Showing their fine form in the first two rounds, this combination took on the jump off with determination to deliver a treble clear in 37.08 seconds.
Scooping second place was Nicole Lockhead Anderson riding Little Red Cloud, a 10 year-old skewbald mare owned by Claire Lockhead. This combination put forward a strong challenge to post a treble clear in 37.32 seconds.
The riders and ponies that finished in third to sixth took home the chance to compete in the Blue Chip Pony Newcomers Masters at the British Showjumping National Championships.
Port Royal Equestrian Centre – Saturday 8th July 2017
Blue Chip Pony Newcomers Second Round
1st Lauren Roach & Renkum Starlight – 0/0/0 – 37.08 seconds
2nd Nicole Lockhead Anderson & Little Red Cloud – 0/0/0 – 37.32 seconds
3rd Antonia Platt & Bonnies Lass – 0/0/0 – 39.59 seconds
4th Chloe Templeton & Still Got Me – 0/0/0 – 40.50 seconds
5th Sinead Cox & Lislan Cruising Lady – 0/0/0 – 41.34 seconds
6th Tabitha Kyle & Playboy Van De Zoetewei – 0/0/0 – 46.62 seconds
NB: Qualifications will be updated pending grading of results.
Image Credit - Jumpforit.co.uk
The Horse of the Year Show 2017 will take place from the 4th – 8th October at Birmingham's NEC. The British Showjumping National Championships 2017 will take place during the 8th – 13th August at the National Agricultural and Exhibition Centre (NAEC), Stoneleigh Park, Warwickshire.
Blue Chip:
Blue Chip Feed Ltd produce the highest quality feed balancers and supplements available in the UK; there is a feed balancer for every stage in a horse's life to ensure optimum health and well-being. Blue Chip products are exported worldwide. For more information please visit www.bluechipfeed.com