KBIS British Equestrian Insurance join the British Showjumping Business Partnership
Wednesday 06 February 2019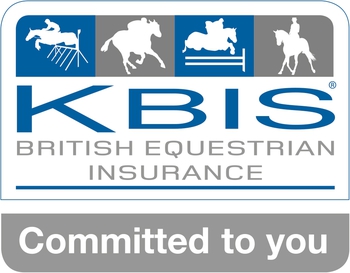 British Showjumping is pleased to announce that KBIS British Equestrian Insurance, one of the largest independent horse insurance providers, will be joining the British Showjumping Business Partnership. This alignment will see KBIS become a pivotal partner in the underpinning of the performance pathway programme via the funding of the International Stairway series.
With over 25 years of experience, KBIS's growth and customer loyalty has been built upon a company ethos of providing excellent customer service combined with a fast and efficient claims process. Based near Newbury, Berkshire, all of the staff at KBIS have either an equestrian background or are insurance specialists in their own fields.
KBIS offer a range of policies for the leisure horse to high value sports horses with a choice of veterinary cover options. Their products also include horsebox and trailer insurance and breakdown, property insurance, event and show insurance, standalone personal accident cover as well as specialist liability insurance for individuals and equestrian businesses.
In addition to their valued support of the Business Partnership, KBIS also offer exclusive discounts to British Showjumping members. Members can benefit from up to 10% off horsebox, property and liability insurance, which covers policies for yards and instructors. Check out the member benefits page in the Showjumping Magazine to take advantage of this offer.
Guy Prest, Managing Director at KBIS, said "Having sponsored within British Showjumping for a number of years including the KBIS Senior British Novice Championship for ten years we were looking to sponsor in a different area of the sport. Putting back into equestrianism through sponsorship is something that has always been important for our company and we look forward to following the International Stairway series throughout the year."
Maria Haig, British Showjumping Head of Communications, added "It is fantastic to have such an established insurance provider aligned with the sport in this way. KBIS has been supporting the sport for many years and this commitment to the Business Partnership will prove crucial in supporting our performance pathway programme. We are happy that they have once again chosen British Showjumping as a platform for promoting their range of insurance products."
KBIS British Equestrian Insurance:
Based near Newbury in Berkshire, KBIS British Equestrian Insurance are well established experts within the equestrian insurance market. KBIS can provide a range of cover options for the equestrian including horse insurance with a wide and flexible variety of cover options, horsebox and trailer insurance, breakdown insurance, personal accident cover, event insurance and liability insurance for equestrian businesses including yards, instructors, equestrian establishments and many more. For further information, visit www.kbis.co.uk.