Jamie Wingrove triumphs in the Winter Grand Prix at Onley Grounds Equestrian Centre
Tuesday 08 January 2019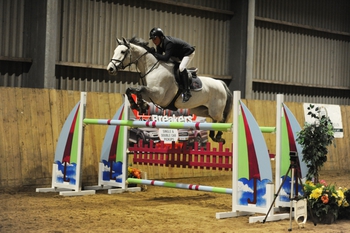 Jamie Wingrove from Leamington Spa, Warwickshire didn't have to travel far for his win in Saturday's Winter Grand Prix at Onley Grounds Equestrian Centre in Rugby, Warwickshire. Jamie claimed the top spot on board Stephen Stamper's eye-catching 10 year-old grey mare Ephonie P.
Just under half of the initial thirty-eight starters managed to produce a clear first round over course builder David Coles' thirteen fence-track and only five went on to produce double clears. Jamie utilised the tight turns and Ephonie P's natural carefulness to the best of his ability to produce their winning round in 38.00 seconds flat.
Mennell Watson was another who didn't have to travel far. Based in Solihull, West Midlands, he steered Euro Sport Horse's 11 year-old bay stallion Whisper in the Wind into second place with a double clear in a time of 38.97 seconds.
Third place was claimed by Berkshire's Laura Mantel riding Elizabeth Howes' 12 year-old dark bay mare Glory B V. This combination won the Winter Grand Prix at Hartpury University last month and added another double clear to their record in 39.34 seconds.
Onley Grounds Equestrian Centre – Saturday 5th January 2019
Winter Grand Prix Results
1st Jamie Wingrove & Ephonie P – 0/0 – 38.00 seconds
2nd Mennell Watson & Whisper in the Wind – 0/0 – 38.97 seconds
3rd Laura Mantel & Glory B V – 0/0 – 39.34 seconds
Image: Jamie Wingrove & Ephonie P in action in the Winter Grand Prix at Onley Grounds Equestrian Centre (CREDIT: British Showjumping)