IN HONOUR OF COLTON MAELSTROM
Thursday 18 October 2012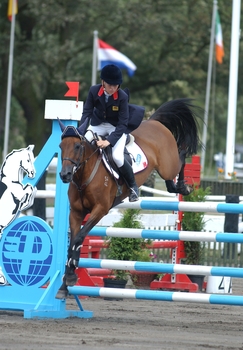 The news that Colton Maelstrom (25 years) had been put to sleep earlier this week was met with great sadness at British Showjumping.

Colton Maelstrom, without doubt, was the most successful winner of pony championships on both the national and international stage. Known as 'Apey' in the stable, she was a member of twelve consecutive European Championships teams winning a total of eleven gold medals with five different riders.

She was the pony that every nation would have wanted on their team and every pony every rider would have wanted. She was outstanding in her character and her love of jumping, something that was visible to all in the way that she kept winning gold after gold with different partners.

Ridden initially by Amy Knobbs and Sammy Pharo for Great Britain, she then spent a short time in Ireland before coming back to Great Britain where she was ridden by Alice and Martha Beaumont. Once Alice and Martha had come out of ponies, she was purchased by David & Sue Sewell for their daughter Natasha who rode her for two years until she had come out of ponies. With Natasha then coming out of ponies, the Sewell family kept Apey for another year during which time William Whitaker was given the ride.
Six years ago she was sold to Vina Buller for her daughter, with whom she stayed with for the rest of her life.

Our thoughts go to all the riders that she looked after during her competitive career in addition to all of those that looked after and cared for her.

Image: Natasha Sewell and Colton Maelstrom at the 2003 Pony European Championships