Tuesday, May 21, 2013
Horse Boots/Leg Protection
Wednesday 23 May 2012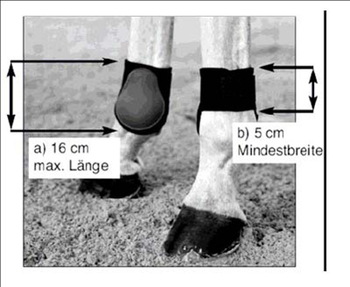 To clarify the FEI ruling that British Showjumping have adopted and are now adhering in respect of Horse Boots for specific production classes please find below the detailed specifications.
For Talent Seekers, Newcomers, Foxhunter (effective 24th April 2012 and onwards) in addition to all Age Classes (effective 16th August and onwards) the following criteria must be adhered to for all 2nd rounds, direct qualifiers or finals.
The total maximum weight of equipment allowed to be added to a Horse's leg, front or hind (single or multiple boots, fetlock rings etc) is 500g.
All hind leg protections must have a maximum interior length of 16cm an minimum exterior width of 5cm. The inside protection must be smooth, the fixations must be non elastic Velcro type fasteners, no hooks or straps may be used. The rounded rigid part of the protection must be placed around the inside of the fetlock. No additional elements may be used in conjunction with the protection.
Failure to comply will incur disqualification.

To avoid any confusion the accompanying image illustrates where the measurements are to be taken.