Holly Smith heads the Zinc Management Speed Horse of the Year
Sunday 08 October 2017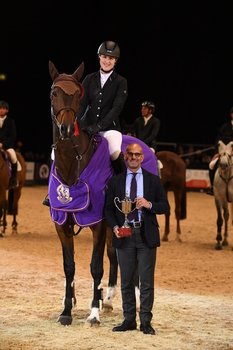 Leicestershire's Holly Smith once again underlined the versatility of Quality Old Joker as she won the Zinc Management Speed Horse of the Year title at the Horse of the Year Show.
The nine-year-old bay gelding's career also shows success at two-star grand prix level and in last year's Horse of the Year Show puissance. Now a prestigious speed class has been added to the portfolio, together with a prize of £4,620.
"It's absolutely fantastic," Holly said. "I am thrilled with the horse.
"He is a massive horse and he is so versatile. He was third in the Hickstead Derby this year, he has won a two-star grand prix, he can win a speed class, a puissance. He can do anything.
"To win this and to have shared in winning a class earlier this week is great. We have got some of the best riders in the world here, and it's great to be jumping against them."
Holly's time of 61.24 seconds saw her home by just eight hundredths of a second from Belgium's Francois Mathy Jr riding Casanova de L'Herse, with Irish Nations Cup rider Shane Breen taking third aboard Hallowberry Cruz.
"I did five strides to the last, which I think gained me some time, but I thought I might get overtaken," added Holly, who broke her leg earlier this year. "There was a run of four or five riders towards the end, but they had fences down."
And looking ahead to 2018 and beyond, she said: "I would like to think I can get on a couple of teams next year, then a year later, hopefully back in the big time. All the horses are confident and going well, and to have a couple of wins under my belt this week is great."
LINK TO HOLLY SMITH AUDIO INTERVIEW:
http://www.lloydbell.co.uk/access/client_zone/Hoys17_smith_day5.mp3
Image Credit: 1st Class Images