Wednesday, May 22, 2013
H&C TV to run daily show during the Olympics
Wednesday 04 July 2012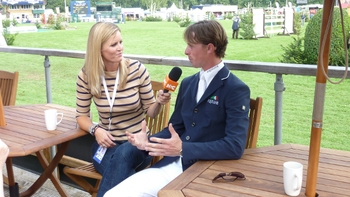 Equestrian sport lovers will have their very own update show dedicated to their favourite sport throughout the Olympic Games thanks to Horse&Country TV (Sky Channel 280), it was announced today.
Every night throughout the equestrian phase of the Games,H&C will broadcast an episode of its popular Rudall's Round-Up magazine show direct from a location just outside Greenwich Park. Rudall's Round-Up will feature H&C presenter Jenny Rudall discussing the day's action with expert commentators from each discipline, as well as special guests from across the equestrian world. Already lined up to offer expert analysis are Grand Prix dressage rider Andrew Gould, show jumper Trevor Breen, a regular member of Ireland's Nations Cup team, and Sharon Hunt, a member of Team GB's bronze medal winning eventingteam at the Beijing Olympics.
Throughout the course of the Games a selection of equestrian legends will be dropping in to the studio to talk to Jenny and offer their views on the competition. There will also be contributions from some of the competitors and other team members from the nations represented at Greenwich. The show will be fast-paced, informative and, most importantly, will give the passionate audience for horse sport in the UK the insight, expertise and the behind the scenes knowledge they love.
Richard Burdett, Managing Director of H&C said "Rudall's Round-Up will offer viewers passion, insight and expertise, delivered in an informal and accessible fashion. Think Springwatch but with horses. As well as the half million plus loyal viewers we reach every month we'll be aiming to attract a completely new audience to the Channel. A lot of people will be hearing names like Carl Hester and Mary King for the first time. Rudall's Round-Up will give them the opportunity to find out more and help create the kind of fame for our athletes that will benefit horse sport across the board."
Rudall's Round-Up will broadcast at 10pm each evening from 28th July to 9th August. The show will be repeated the following day at 11am and 5pm. Rudall's Round-Up will be produced by Blue Tuna for H&C TV.