Saturday, May 18, 2013
GREAT SUCCESS FOR SHOWJUMPING BREEDER
Tuesday 17 July 2012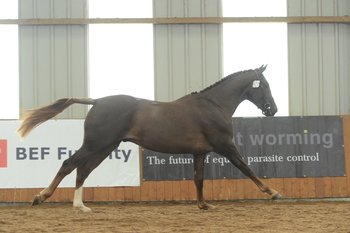 Karen Niklasson from Lambourn, earned the highest accolade with her two year old, Kannanball, who was also the top scorer of the day in the show jumping section at the Baileys Horse Feed/British Equestrian Federation (BEF) Futurity Evaluations held on the 10th July at Catherston Stud.
The BEF Futurity evaluation series aims to identify British bred young potential sport horses and ponies destined for careers in dressage, eventing, show-jumping or endurance, and may even find the Olympic Champions of the future.
Two year old Kannanball, top scorer of the day for the show jumping, is owned and bred by Karen Niklasson. He scored an elite premium of 9.04 as the evaluators felt he has the outlook at potential to perform at international level. Karen, who is based at Boomerang Equestrian Centre near Lambourn, was thrilled that Kannanball proved to be so successful. She came across his dam, Brise de Maupertuis, as a result of a New Years party she attended with friends in France. Brise was successfully competed with her previous owners and was also a member of the Swiss Junior show jumping team. Sadly the mare dies two years ago after giving birth to Kannanball's full brother, "Brise was a lovely mover but more of an event type", said Karen.
Karen plans to keep Kannanball entire and would like to breed from him in the future. He will now head towards a career in show jumping. "He has his father's jump with amazing scope and ability" said Karen, who has been a successful eventer in her own right and now focuses more on show jumping. Kannanball is by the stallion Kannan who is the ranked fourth on the BEF all disciplines all time sire rankings list. Karen was immediately impressed by his jumping ability and this seems to have been passed on to Kannaball who impressed the judges at Catherston.
With entries limited to 60 at each evaluation venue, places at the Futurity are keenly sought after. Entries are categorised by discipline with age groups for foals, yearlings, two and three year olds and each horse is evaluated in hand and loose in a safe indoor environment as well as undergoing a vet's assessment.
The BEF's Head of Equine Development, Jan Rogers, said: "The futurity continues to grow and be shaped by feedback we receive and is developing into an assessment the British horse world recognises as a valuable indicator of future performance talent"
The BEF Futurity Evaluations are held at 12 venues throughout the UK and young horses go home with a BEF Premium (grade), a stylish rosette and a detailed, informative score sheet. An attractive certificate to keep and frame follows on after the event. All results are published on the fully searchable British Breeding website. www.britishbreeding.org.