GREAT BRITAIN TRIUMPH IN DUBLIN!
Friday 05 August 2011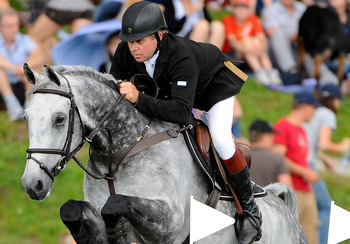 This evening saw a triumphant and jubilant team in Dublin secure the seventh leg of the FEI Nations Cup and the historic Aga Khan Trophy.


With eight of the top nations in the world all competing for vital points to stay in the series for next year the Irish leg of the FEI Top Level Nations Cup was always going to be a hard fought competition. Fielding a strong team for Great Britain, Rob Hoekstra (Britain's World Class Showjumping Performance Manager) had ensured that we were in as strong a position as possible to ensure gaining those vital points before the final leg which takes place in Rotterdam next month.


The team was made up of four of the most experienced Nations Cup horse/rider combinations we have competing under the Union Flag currently. Namely, Warwickshire based Nick Skelton with Beverley Widdowson's Carlo who took the role of pathfinder. Nottinghamshire based Michael Whitaker riding Beatrice Mertens GIG Amai II. Scott Brash from Peebles with his father's (Stanley) Intertoy Z and anchorman for the team Robert Smith with Talan, a horse he jointly owns with Di & Pennie Cornish.


Finishing the first round with a total score of 8 penalties following a clear round from Nick Skelton, and 4 penalties apiece from Michael and Robert (Scott being the drop score), Great Britain found themselves in joint third place alongside Belgium and Germany. At this point in the competition it was France heading the table on a zero penalty score and Ireland on a total of 4 penalties.


As is synonymous with the Nations Cup competitions, the standings can change dramatically throughout the competition right the way through to the final competitors entering the arena and today was no exception. The second round saw fortunes being made for Great Britain whilst they were seen slipping away for France, Belgium and Germany as fences fell.


Great Britain, put in Championship worthy performances with Nick, Michael and Robert all producing clear rounds whilst Scott incurred an unfortunate 4 penalties. With the other teams having fallen by the wayside, it was then reliant on Ireland incurring at least one fence down to ensure a jump off between Ireland and Great Britain. With exactly this happening as Ireland's Billy Twomey lowered an oxer it meant Great Britain and Ireland were in joint 1st position. Without any hesitation that Rob Hoekstra put Nick Skelton and Carlo forward for the third and final round in a head to head against Billy Twomey and Tinka's Serenade with a view to securing Great Britain's winning hopes.


Again, jumping in reverse order meant that Nick was first to go. Following discussions with Rob Hoekstra a decision was made to go for not only a clear but also in a time that would put pressure on the Irish in the hope of them making a mistake. Always a risky strategy, but one that certainly paid off as Nick came through the finish both clear and in a time that looked almost unbeatable having stepped up the pace whilst also turning back on the fences across the twisting course that had spectators up and out of their seats in anticipation of what was to come.


The pressure, in front of such a large home crowd must have been immense and having cleared the first fence, the second came tumbling down for Tinka's Serenade as did the crowds hopes of a home win. Retiring after the second fence, knowing there was no point in continuing it was a victorious British Team that were seen celebrating from the sidelines knowing they had secured themselves not only a win but their assurance of a place on the 2012 Top Level Nations Cup Series.


Talking after the competition Rob Hoekstra commented "Nick was absolutely fantastic, he jumped three immaculate clear rounds and his performance in the jump off was phenomenal. After two clear rounds, there was never any question that I was going to use him if we went forward to a jump off. We discussed how to approach the jump off beforehand, we knew that we had to jump a good fast clear to put the pressure on Billy and that is exactly what Nick did. I just couldn't have asked any more of him – he was brilliant today. That said, I would also like to acknowledge the great performances put in by both Michael and Robert today. This is a great day for us here today and most certainly a great day for British Showjumping. We can now focus on the job ahead at the Europeans and our medal winning hopes"


Nick Skelton "I'm over the moon with the way Carlo has gone today. I never once felt that we would have a fence down today and he really has put in one of the best performances of his career to date".


Will Connell, Equestrian World Class Performance Director commented "There isn't much better in showjumping than winning the Aga Khan and it was great to see some of our top riders with horses that will be available in 2012 delivering such stella performances
"It means that we can now focus on the Europeans and use Rotterdam and Gijon as a warm up for the Europeans. In terms of medal hopes, I think if we look at the FEI Top Level Nations Cup it has clearly shown that there at least six teams if not eight teams that could medal this year


"Showjumping is one of the most open sporting competitions that there is when you compare it next to other sports. At this point in time it's absolutely impossible to determine who could win and it's exactly that what makes the sport so exciting".
FEI Nations Cup 2011 Standings(after Round 7 at Dublin)
1. The Netherlands - 44
2. Germany - 40
3. Great Britain - 40
4. Ireland - 39.5
5. France - 34.50
6. Belgium - 30.50
7. USA - 28.50
8. Denmark - 9
For further information on the seventh leg of the FEI Nations Cup™2011 visit
www.dublinhorseshow.com
or contact Press Officer JP Montgomery, Email
jp@rds.ie
or Tel +353 1 240 7222.
The British Showjumping Teams are strongly supported by the UK Sport Lottery funded BEF World Class Programme.