Sunday, May 19, 2013
Great Britain start as the 5th team in the first round of the team jumping competition
Saturday 04 August 2012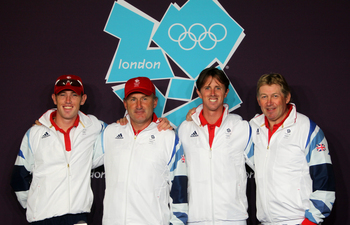 Today saw the start of the jumping competition at Greenwich Park, with the first qualifying event - which decides the starting order for the team competition and counts as qualification for the final individual competition - getting underway.
Great Britain will start in 5th place, after skilled rides from the British quartet left GB finishing with three riders, Nick, Ben and Scott, qualified for the individual competition.
Nick and Big Star whom is owned by Beverley Widdowson got things underway for the Brits with a fantastic clear inside the time; this was replicated soon after by Ben with his own and Quainton Stud's Tripple X, to finish clear with no penalties. Scott was next in and produced a good round with Hello Sanctos, whom is owned by Lady Pauline Kirkham and Lord & Lady Harris, but were unlucky to have a pole down to finish with 4 faults; Peter, the last in for GB had an unfortunate two poles down but used all his experience to get Vindicat , owned by Olga White, Tara Charles and Team Murka, home just outside the time to finish on 10 penalties (8 faults and 2 time).
Nick commented; "He jumped great, with the crowd and the roaring, he'll have to get used to it; the atmosphere has been like this for the dressage so I knew what I was going to get but it's great, the public are just unbelievable."
Rob Hoekstra commented; "We started off really well, I think as we went on the competition got louder and louder and more excited and the last two horses were definitely a bit affected by the environment when they came in. That's why I think the mistakes happened quite early in the course and it happened to some of the other nations as well, not only our nation. Then luckily they got better and better and actually finished very well. So I think we had a good strong start with the first two most experienced horses; although Big Star is a young horse he obviously has seen quite a bit. I'm quite happy, we needed to get this round out of the way, the horses are fine, the riders have got their first feel of an Olympic venue which is different to anything else, anywhere we've ever been and I'm really positive for tomorrow. Our team order will probably stay the same. We'll get stuck in and see if we can get three fantastic clear rounds out of four tomorrow."
The second individual qualifier and the first team round begins tomorrow (5 August), with the second team round, the team final taking place on Monday (6 August).

Image: courtesy Press Association left to right: Scott Brash, Peter Charles, Ben Maher, Nick Skelton