Sunday, May 19, 2013
GREAT BRITAIN FINISH 5TH IN LA BAULE
Friday 11 May 2012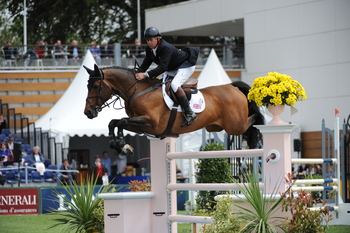 Spectators saw some fantastic competition in the outstanding setting of the French seaside town of La Baule. With eight of the best nations battling out the first of the Top Level Nations Cups for 2012 it was almost gladiatorial with all teams vying for valuable league points as early on as possible in the series.


The British team who were led out by British Showjumping Ambassador Jennifer Saunders were drawn third to go. Sitting in 3rd place at the end of the first round with just one fence between first place, at that point held jointly between the Netherlands and Belgium, a change in the standings at the end of the second round saw Great Britain finish in joint 5th position with Ireland and Switzerland.


A third and final round was required for Belgium and the Netherlands both of whom had managed to hold onto their joint first position. Going head to head it was Belgium who finished victorious by relegating the Netherlands into second place by finishing with 3seconds in hand.


Nick Skelton, based in Warwickshire, with Beverly Widdowson's 9-year-old bay stallion Big Star were the pacesetters for the team. This in-form combination produced a stunning clear in both rounds, a performance produced by only seven of the thirty two competitors representing their respective countries.


Second to go for Great Britain was Kent based Guy Williams with Lindsay Doran's 9-year-old grey gelding Depardieu Van't Keizelhof. Returning home with 4faults in the first round having rolled a poll towards the end of the course, they incurred an unfortunate 8faults in the second round.


Next was Peter Charles from Hampshire with Murka's Vindicat W a 10-year-old bay gelding jointly owned by Olga White and Tara Charles. A superb clear by this combination in the first round was followed by an unlucky 4faults in the second round.


Ben Maher from Hertfordshire took the position of anchorman for the team. Having only just touched a fence in the opening round meant they returned with a score of 4faults, a score which was replicated in the second round at the penultimate fence.


Talking after the competition World Class Performance Manager, Rob Hoekstra commented "When you come out with a team it goes without saying that you are coming out to win. Today wasn't our day, but we shouldn't ignore the fact that we produced some great performances from all of the horses. In particular from Nick and Big Star who secured one of the few double clears of the competition along with the clear from Peter with Team Murka's Vindicat W on their debut appearance at this level.


The FEI Top Level League is a series of eight 5* Nations Cups in which official teams representing qualified nations compete against each other in their teams of four horse and rider combinations. The eight events take place across two rounds at eight of the most prestigious venues competing for a minimum of €200,000 at each.


The venues and dates for the series in 2012 are as follows:
La Baule 10-13th May (11th May Nations Cup)
Rome 14-27th May (25th May Nations Cup)
St Gallen 31st May – 3rd June (1st June Nations Cup)
Rotterdam 20-24th June (22nd June Nations Cup)
Aachen 3-8th July (5th July Nations Cup)
Falsterbo 12-15th July (13th July Nations Cup)
Hickstead 19-22d July (20th July Nations Cup)
Dublin 15-19th August (17th August Nations Cup)


Results:
1st Belgium (4 penalties)
2nd Netherlands (4 penalties)
3rd Sweden (5 penalties)
4th Germany (6 penalties)
5th Great Britain (12 penalties)
Nick Skelton/Big Star (0/0)
Guy Williams/Depardieu Van't Keizelhof (4/8)
Peter Charles/Team Murka's Vindicat W (0/4)
Ben Maher/Tripple X III (4/4)
Switzerland (12 penalties)
Ireland (12 penalties)
8th France (15 penalties)


FEI TV will be showing live footage from the event. To access this please visit www.feitv.org The programme will also be shown at a later date on Eurosport and Horse & Country TV. Please visit www.britishshowjumping.co.uk and click on 'whats on tv' for broadcast times.
The British Showjumping Teams are supported by Exchequer and National Lottery funding via UK Sport.